American Metal Supplier & Fabrication Services: Continuous Cast Iron, Bronze & Steel
Get a quote for...
Versa-Bar continuous cast iron
Various bronze grades
Steel
FREE QUOTE
American Iron and Alloys supplies continuous cast iron products to fluid power industries, bearing manufacturers, pattern shops, construction industries and anyone else requiring metallurgically superior cast iron, bronze, steel and other alloy bar.
We are the largest full-line Versa-Bar continuous cast iron master distributor. AIA also stocks, distributes and machines the most popular grades of bronze bar and tubing.
Custom Cast Iron and Bronze Components
We sell raw metal stock: rounds, bars, pipes and tubes.
In-house CNC machining and value added services offer versatility and savings. AIA can supply anything from raw materials to finished iron and bronze products, working with you to determine where in the chain of production we can save you the most money.
AIA accommodates all order sizes for continuous cast iron and bronze. Whether you need 5 metal products or 5000, we are here for you.
Our metal supply programs allow you to set the package parameter based on your product needs to get the most cost-effective solution for your business.
Steel products and finishing services are also available upon request.
Headquartered in Waukesha, WI, American Iron & Alloys also has a warehouse and distribution center on the east coast. This lets us quickly fill orders nationwide, making sure your shop always has the metal stock it needs on hand.
Versa-Bar Continuous Cast Ductile and Gray Iron Metal Products
Many industries are adopting continuous cast iron because it out performs sand cast iron and is a great steel alternative. Versa-Bar continuous cast iron solidifies at a very uniform rate to provide more consistency and durability than traditional sand cast iron. The continuous cast iron process requires less machining and less scrap than sand casting, making Versa-Bar much more affordable and more reliable than traditional sand cast iron.
American Iron & Alloys offers the following grades of gray iron and ductile iron:
V-2 Gray Iron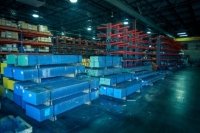 Class 40 gray iron Versa-Bar has a tensile strength of 40,000 psi, and its hardness ranges from 187 to 269 bhn. Choosing Versa-Bar means choosing lower prices and higher performance.
V-3 Ductile Iron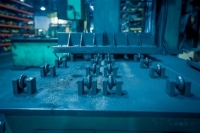 American Iron & Alloys' 65-45-12 Versa-Bar ductile iron is the most machinable metal from our selection of gray and ductile iron.
V-4 Ductile Iron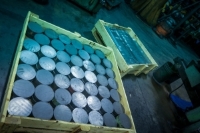 80-55-06 ductile iron is the very best steel alternative, boasting an extra tough 80,000 psi tensile strength (100,000 heat treated).
Cast Iron Raw Stock Supply
Versa-Bar continuous cast iron is most commonly used in the fluid power, bearing, patterns and machine component manufacturing industries. Versa-Bar is incredibly durable and reduces production costs, making it very popular for fabricating machine component parts. Our iron bars can be ordered in sizes from less than .75 inches, up to 27 inches in diameter. We offer a wide variety of materials, finishes, shapes, grades and sizes to suit your exact specifications.
Both grades of continuous cast iron Versa-Bar may be finished and machined to product custom parts:
Bronze Bar and Tubing for Sale
American Iron and Alloys supplies bronze bar and tubing for a wide variety of industries. Our bronze is commonly used in the bearing and fluid power component industries. Our bronze comes in a wide range of sizes and grades. The most popular bronze grades we offer include:
Start with your exact specifications or come in with a general idea of what you need and American Iron and Alloys will work with you to create your perfect metal component match.
We will help you choose from different bronze metals and select the metal and size needed to make the most cost effective part. You can decide whether you want raw bronze bars and tubing or a finished bronze product. Bronze is typically used as:
Bearings
Sleeve bearings
Thrust washers
Flange bearings
Pistons
Glands
Wear Plates
Metal Precision CNC Machining Value Adding Services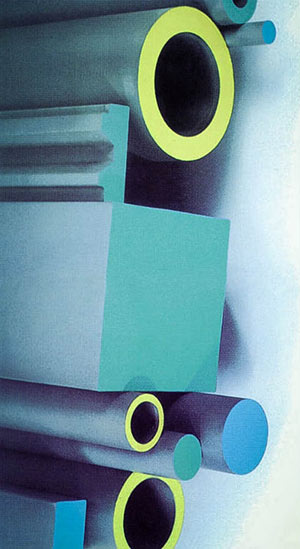 We sell continuous cast iron and bronze rounds, tubes and bars.
Paring our line of metal bar products with value added machine processing services is a specialty of American Iron and Alloys. We lead the competition in building cost saving supply programs with more variety of products and more options in value added processing. Let AIA show you how we can add value to your metal product processes by saving you time in sourcing, reducing your machining costs and lowering your total logistics costs through consolidation to the mill direct source.
Some of our precision CNC machining services for continuous cast iron and bronze bar and tubing include:
Finish Machining
Cut to Length
Grinding
Plate Slitting
Custom Metal Components
American Iron and Alloys manufactures custom finished components from continuous cast iron and bronze for pistons, glands, gears, sleeve, spindles, bearings and pattern plates. These metal components are used in compressor applications, fluid power component parts, mining, agricultural equipment, and many other manufacturing industries. Our metal specialists will help you choose which metals fits you components needs based on the application and technical specifications you require.
Superior Quality and Cost-Efficient Metals
Our bronze and continuous cast iron suppliers provide the most durable and reliable raw materials and metal bar and tube products on the market. Versa-Bar Continuous cast iron and bronze supply programs help reduce your sourcing time and machining costs. Trust American Iron and Alloys for all of your custom metal components and raw materials.