Precision CNC Machining Services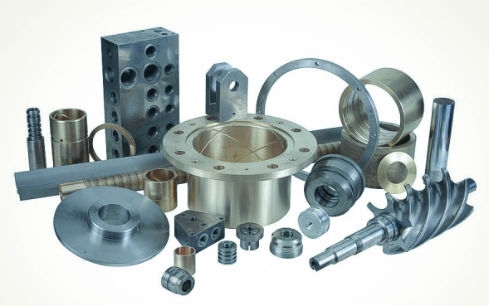 Precision CNC machining of critical custom cast iron components for the fluid power industry.
Reduce Production Time with Precision Machining Services
Pre-machined or finished complete, American Iron and Alloys can provide value added processing services to save you time and money. We offer a wide range of machining capabilities serving the fluid power, machine tool, construction, off highway equipment and many other industries.
Whether you need raw materials or fully machined metal components, you are free to completely customize your supply program.
Logistical savings are at the core of American Iron and Alloys' machining division. Pairing this machining service with the savings from our mill direct metal supply means lower costs in transportation, less on hand inventory, and reduced manufacturing cost for you.
We're based in Waukesha, serving companies in major Wisconsin locations like Madison, Milwaukee, Janesville, Racine, Kenosha, Brookfield, and beyond. Our broad distribution capabilities extends our reach nationally.
Value-Added CNC Finishing Services
Versatility and savings are the heart of the machined parts program we offer. This is the core focus of the machining division. Our customers define their needs, we then develop the processes and programs which will best meet their needs. Let us show how we can engineer a cost saving machining supply program for you.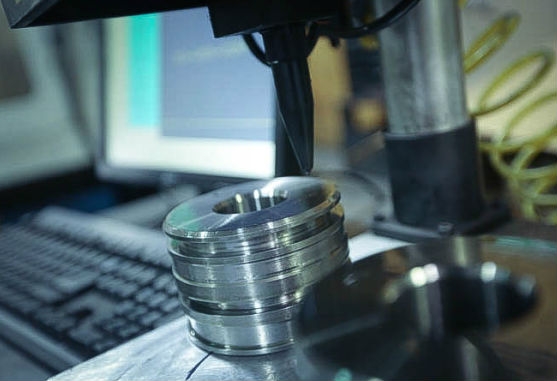 Lathes, cold saws and plate saws create high precision CNC parts.
Our CNC machining services are an extremely beneficial complement to our bronze bar and Versa-Bar continuous cast iron products. Adding precision machining to your metal products reduces production time to help you get the job done faster. Machining services from American Iron and Alloys include:
Grinding
Precision CNC Horizontal Machining
Precision CNC Vertical Machining
We provide durable custom machined large and small components for a wide variety of industries. Let our CNC machining experts reduce your sourcing time and machining costs with high quality metal products from American Iron and Alloys.
Our Company's In-House Precision Machining Capabilities
American Iron and Alloys' CNC machine shop has a large facility which is capable of producing large and small orders of precision machined components.
We have a variety of machine tools in house to provide you with dependable rough processing and finish machining services. The machine list includes:
6 CNC Horizontal Lathes
3 Manual Turret Lathes
2 CNC Vertical Machining Centers
2 Duplex MKCS (9' Beds)
8 Automatic Cut Off Saws
2 Automatic Precision Cold Saws
4 Plate Saw (10' bed)
3 Automatic Chucker Lathes
Metal Cutting Services near Milwaukee, WI
For Waukesha businesses in search of reliable and affordable advanced metal cutting services, American Iron and Alloys is your solution. Get a free quote on our custom cast metal components and we'll provide an industry-best price quote based on the size and number of metals we'll be cutting for you.
Alongside metal cutting services, we also have continuous cast gray and ductile metal services, great to cast iron for a large number of applications ranging from hydraulics to machine tools and glass molds. Utilizing Versa-Bar, our company has access to the best metallurgically superior steel alternative on the modern market, meaning our custom cut components outperform any other competing products.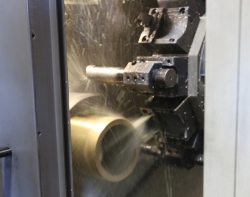 More on turning >>
We machine unique, custom iron and bronze parts.
Turning is just one of many processes our advanced CNC machine shop in Waukesha, WI is capable of performing with impeccably high precision. Bearings, bushings, pistons, wear plates, pulleys. You name it, we machine it.
Our new lower cost and performance options help save you money and guarantee your products will work and be finished better than at other companies offering the same CNC turning services. From traditional metals like steel to others like bronze, we have a number of services available online for your convenience, including raw bronze stock and custom finished bronze components for our customers. Located out of Waukesha, American Iron and Alloys has turned and finished machined bronze bushings, washers, and bearings for years. Contact us today for more information regarding our free quote, CNC turning, and bronze tubing options.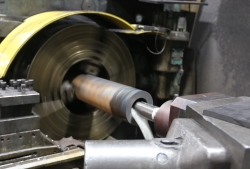 More on boring >>
We utilize precise boring techniques to perfectly machine custom parts.
Whether you are a business located out of Waukesha, Wisconsin or another state in the US, American Iron and Alloys can help make any construction job you have easier with our boring and custom metal products and services. If you have a metal product with a hole already present on its surface, but need it enlarged at a money saving price, we have you covered. By ordering our services and products, you can quickly add value to your own line of products and merchandise. We can process and complete raw cast metals and boring services quickly and precisely at a low price, every time. Whether you need CNC boring or other custom metal services, you are taken care of with our top of the line manufacturing capabilities.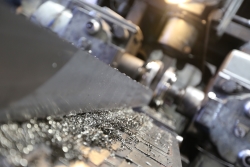 More on milling >>
Precision milling creates parts built to your exact specs.
The leading supplier of pre-milling services and precision engineering in Waukesha, American Iron & Alloys helps reduce your project's production time and spending budget to make your operation more efficient. Contact us today for a free quote on our pre-milling services, raw metal, finished and machined metal components. With the ability to serve the machine tool, construction, and off highway equipment industries, our precision engineering services are one of the most comprehensive in the state.
On top of being convenient, our precision engineering and pre-milling services are also customizable to make your supply program even more specific and relevant to your requirements and needs. Whether you are in search of precision engineering, pre-milling, cutting, boring, or grinding services, we have you covered.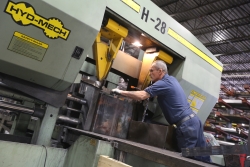 More on cutting >>
Plate cutting iron, bronze and steel parts.
Waukesha, Wisconsin's best plate cutting and custom casting fabricator has long been American Iron & Alloys. With the ability to cast components made to your specifications and perform efficient CNC plate cutting, we have machined the highest quality custom metal parts in our CNC shop long enough to build a respected reputation. We can provide you with hard to source sand casting and cast metal bar special shapes easily.
With partnerships in place with local foundries, we can save you money by plate cutting and casting iron, bronze, and steel parts without having to outsource to another machine shop and waste dollars on shipping costs. Contact us today for more information regarding our quotes on specialty castings and what options you have regarding our manufacturing capabilities.
Waukesha CNC Tool Grinding Services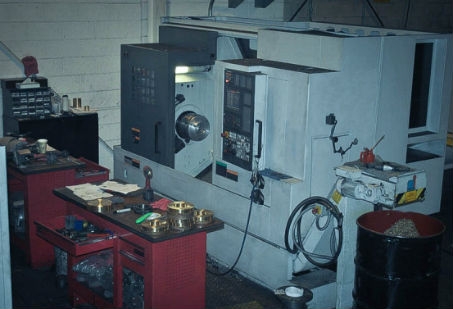 Precision CNC machining for custom metal components.
Using modern CNC tool grinders in conjunction with our specific manufacturer's capabilities, we have provided Waukesha businesses with advanced CNC grinding services they've needed for years. Our CNC machining services can produce a number of custom metal products and tools to be used in a variety of industries, including metal cutting and woodworking. You can trust us with providing you with the best grinding services because of our experience with both Versa-Bar iron and bronze materials. We help companies save money—not spend it—because we know what we're doing. For more information regarding our grinding services or full CNC machine shop, contact us today!
High Precision CNC Vertical and Horizontal Machining
As one of the top suppliers of CNC metal cutting, turning, boring, pre-milling, plate cutting, and grinding services in Wisconsin, American Iron & Alloys also provides high precision CNC vertical and horizontal machining for all of our customers. From our Waukesha location, we can buckle down on large quantities of work to accurately machine CNC products using vertical and horizontal machining services. It doesn't matter how demanding or specific your requirements are, we can machine your various metal and raw bronze materials into products worth making the investment for. If you have any questions regarding our vertical and horizontal CNC machining deals, give us a call today.
Contact our CNC machining division at American Iron and Alloys to save money at every step of production.