Continuous Casting Standard Grades and Process
American Iron and Alloys has a variety of continuous cast iron grades available. We offer years of knowledge in the industry to provide you with the exact grades for your specific application. If you don't see the grade you are looking for below, don't hesitate to give us a call. Our custom metal supply program options are endless.
Gray iron is preferred for producers looking for a low-cost option to produce custom continuous cast iron components with high density and strength. It is best used in vibration damping equipment such as blocks and frames for manufacturing equipment.
Originally developed for the glass mold industry, Versa-Bar V-1A is ideal for products requiring a fine grain structure and a superior machining finish. Ferritic gray iron is metallurgically superior and more cost-effective than other steel alternatives.

V-1A gray iron has a specific heat capacity, perfect for decorative castings. Its graphite flakes and damping characteristics make it ideal for high wear applications like cutting tools.

---

Continuous cast class 30 gray iron from American iron and Alloys is solidified at a more uniform rate than steel or sand cast iron. This process produces a cost-effective steel alternative.

Versa-Bar V-1 gray iron has a damping capacity about 20 to 25 times higher than steel. It's high hardness and machinability rating make it well suited for heavy machinery.

---

Class 40 gray iron has been miscast as a "cheap" or "dirty" metal, but it's lately been getting more attention due to its light weight, strength, damping properties and machinability.

Continuous cast class 40 gray iron achieves the highest cutting speeds, greater durability and flexibility due to Versa-Bar's unique metallurgical makeup.

---

V-6 gray iron from American Iron and Alloys features a hardness of more than 200, making it harder to machine than lower-rated irons.

Our continuous cast process ensures V-6 Versa-Bar solidifies more uniformly than steel or sand cast iron. V-6 gray iron offers superior corrosion resistance compared to other irons.

---
Gray iron is an excellent thermal conductor with good wear resistance, but is not very flexible, containing no recognizable elongation.It can survive approximately 2 foot-pounds of impact, featuring lower impact resistance than ductile iron (ductile iron can withstand around 7 foot-pounds of impact).
Ductile iron is a more flexible alloy, featuring more fatigue resistance and a higher impact resistance than its counterpart, gray iron. Instead of rod-like flakes, ductile iron bar is composed of graphite nodules making it flexible during solidification. Ductile iron molecules are more malleable and feature greater ductility—the ability of a metal to be shaped into wires.
American Iron & Alloys offers two main grades of ductile iron:
Fine ferritic structure makes V-3 ductile iron the easiest machining of the three grades of Versa-Bar.

Compared directly to 1114 steel (including material cost), machining tests show 65-45-12 Versa-Bar costs 15-20% less to produce the same part.

---

No grade of Versa-Bar is stronger or works as a better steel replacement/alternative than V-4 80-55-06 ductile iron.

V-4 is a very popular choice for automobile parts, brackets for hydraulic cylinders, machinery parts and even manhole covers. Choose V-4 ductile iron for the toughest Versa-Bar.

---

V-5 ductile iron from American Iron and Alloys has a minimal yield strength of 70,000 psi, well suited for the production of automotive parts, machinery, heavy equipment components, and more.

100-70-03 ductile iron combines nodular graphite, pearlite, and a small amount of ferrite, giving it a machinability similar to carbon steel. V-5 ductile iron is metallurgically superior, and more cost effective than carbon steel.

---
Ductile iron stock is available for sale as a raw material for you to process and finish on your own, or we can finish and machine it into custom continuous cast iron components based on your exact requirements at our state-of-the-art CNC facility in Waukesha. It's up to you. We provide you with high quality ductile iron in whatever form you desire.
The Difference Between Gray and Ductile Iron
Gray and ductile continuous cast iron are two of the most dominant metals produced in the industry today. Ductile is often thought of to be an "upgraded" version of gray iron, but this outlook is sweeping and simplistic. Each has unique and distinguishable metallurgical characteristics to situate them strategically in the metal goods market. When considering what's best for your application, you must know the main differences between ductile and gray iron.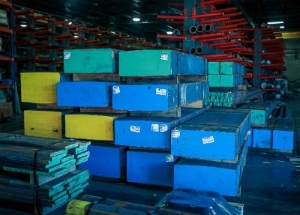 Unique mechanical properties make V-2, V-3 and V-4 gray and ductile concast iron a far superior alternative to traditional steel alloys.
Frequently Asked Questions - Gray and Ductile Continuous Cast Iron
Is gray/ductile iron magnetic?
Yes and no - iron becomes magnetic at a set temperature.
Why is gray iron more brittle and weak in tension?
Its composition has less tensile strength than ductile iron.
How is gray iron made?
Through the continuous casting process.
Can you weld ductile iron?
It is not recommended.
Is ductile iron conductive?
Yes, but it has low conductivity.
Is ductile iron malleable?
Yes, ductile iron is malleable.
Is ductile iron ferrous or nonferrous?
Ductile iron is ferrous.
Is ductile iron stronger than steel?
Yes! Ductile iron is a fantastic (stronger) alternative to steel.
Continuous Casting Process for Versa-Bar Iron
Versa-Bar is manufactured using a continuous casting process, making it metallurgically superior to sand cast iron and other steel alternatives on the market. Continuous cast iron solidifies at a more uniform rate than sand cast iron, making it more durable. Learn about the advantages of the continuous casting and how your company saves money utilizing the remarkable process.