V-2 Class 40 Gray Iron Supply
Class 40 Gray Iron Features Unique Graphite Flakes
Continuous Cast Iron Suppliers >>>>> Gray Iron >>>>> V-2 Class 40
Choose Versa-Bar Class 40 gray cast iron bar for...
Better bulk pricing
Flexible supply packages
Quick nationwide delivery
FREE QUOTE
Class 40 Gray Iron Chemical Composition

Carbon
Silicon
Manganese
Sulfur
Phosphorus

2.6-3.75%

1.8-3%

0.6-0.95%

0.07% max

0.12% max
Material Properties

Tensile strength
40,000 psi
Compressive strength
150,000 psi
Transverse strength: Average lbs. load on 1.2" dia. bar on 18" span
4,000 psi
Deflection - inches
0.25 - 0.34
Brinell hardness range
183/285
Microstructure, as cast
Essentially pearlitic
Heat treatment
Can be oil-quench hardened from 1575°F to attain Rockwell C-50 min. surface hardness
Machinability
Very good
ASTM Specification
A 48 (Class 40)
V-2 (Class 40) gray iron features a tensile strength of 40,000 psi with a compression strength of 150,000 psi. Class 40 gray iron's hardness ranges from 187 to 269 bhn. The microstructure is essentially pearlitic. It's used widely for bearing and bushing applications in the hydraulics industry.
Our Class 40 Continuous Cast Gray Iron is a Better Alternative
But that's not all it's good for—class 40 gray iron is suited well for any high wear resistance applications within the limits of the available shapes and sizes. We also offer custom cast parts and in-house CNC machining services to support lean operations
All grades of continuous cast iron, including Class 40 gray iron, are excellent alternatives to steel. Our continuous casting process solidifies iron at a more uniform rate than sand cast iron or steel.
Class 40 gray iron is appropriate for many types of machinery, including housings, sheaves and spindles. We have also machined parts including:
The unique characteristics of Versa-Bar make V-2 class 40 gray iron a superior option to gray iron provided by many other distributors of raw cast iron stock and custom components.
Class 40 Gray Iron Stock Material
CAST AS SQUARES

Class 40 Gray Iron Stock

ACTUAL SIZE IN INCHES
EST. POUNDS PER INCH
EST. POUNDS PER BAR
1.250 x 1.250
.42
30
1.500 x 1.500
.60

43
1.625 x 1.625
.69
50
1.750 x 1.750

.81
58
2.000 x 2.000
1.04
75
2.250 x 2.250
1.32
95
2.500 x 2.500
1.63

117
3.000 x 3.000
2.35
169
3.250 x 3.250
2.75
198
4.250 x 4.250
4.69
338
5.250 x 5.250
7.17
516
6.250 x 6.250
10.17
732
7.250 x 7.250
13.67
984
8.250 x 8.250
17.71
1275
9.250 x 9.250
22.25
1602
10.250 x 10.250
27.32
1967
12.250 x 12.250
39.03
2810
FREE QUOTE

*NOTE:

Dimensions shown are actual.
Material will finish to .250" (1/4") under dimensions shown.

EXAMPLE:

Actual size: 2.250" x 2.250"
Finish size: 2.000" x 2.000"
American Iron & Alloys has the best prices on V-2 class 40 gray iron ingots. Our bars of pure raw iron are perfect for machining, smelting, or casting. Contact us today about material for your next project.
Our high quality premachined V-2 class 40 gray iron blanks are trusted by companies across the country. Our custom blanks come from our facility ready to be turned out into finished parts to put the finishing touches on your project.
We produce a product that is more machinable and consistent throughout. Our V-2 class 40 gray iron angle bar stock is widely used by engineers for use in fluid power applications, bearings, and construction equipment.
Our custom V-2 class 40 gray iron plates are perfect for machining and fabrication of bearings and rotors. Contact us about our cast iron plates for your project.
We offer test bars for tensile strength tests. Contact American Iron & Alloys for ordering information.
V-2 class 40 gray iron square bar from American Iron & Alloys are metallurgically superior to anything offered by our competitors. Contact us today about pricing and ordering information for cast iron square bar.
American Iron & Alloys' rectangular bar stock is a high-quality material for machinging and heavy equipment applications. Contact us for information on ordering and pricing rectangular stock today.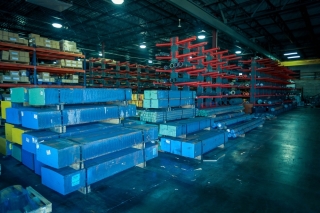 V-2 Class 40 Gray Iron available as raw stock or machined parts.
Versa-Bar Continuous Cast Iron Means Improved Performance
Why choose Versa-Bar V-2 gray iron? Versa-Bar contains a high graphite flake content giving it numerous benefits over other gray iron on the market. Microscopic graphite flakes have very small recesses promoting the retention of oil. Lubricated parts stay oily longer. In the event of oil loss, versa-bar is able to retain its lubrication, and it has a better chance of survival.
What does this all mean? Greater durability. Longer life. A better product for a better price.
Class 40 gray continuous cast iron beats aluminum, bronze and steel in field comparison testing.
The chart below shows speeds and feeds to aluminum, bronze, steel and Class 40 Versa-Bar gray iron. Operators were asked to reach optimum surface feed per minute (sfm) on the Versa-Bar and maintain comparable depth of cut and surface roughness with the aluminum, bronze and steel. All tests done on conventional tooling and equipment.
As you can see, the V-2 grey iron beat the recommendations of conventional machinist handbooks for sfm on cast iron.
CAST IRON
ALUMINUM
BRONZE
STEEL
V-2 GREY
(CLASS 40)
6061-T6
2024 T-3
SAE 660
C-1045
R.P.M
1100
1500
1500
1100
1500
1100
1100
1500
1100
1500
FEED
.011
.013
.008
.009
.013
.009
.009
.011
.009
.013
DEPTH OF CUT
.150
.150
.125
.125
.250
.125
.125
.125
.125
.125
LENGTH OF CUT
4"
4"
3"
4"
4"
4"
3.25"
3.25"
5"
5"
R.M.S
63FS
90FS
63FS
60FS
125FS
60FS
80FS
80FS
63FS
150FS
WITH COOLANT
YES
NO
YES
YES
YES
YES
YES
YES
YES
YES
MACHINE HORSEPOWER
7HP
7HP
7HP
7HP
7HP
7HP
7HP
7HP
7HP
7HP
TAPER
.0007
.0015
.0005
.001
.001
.0005
.0005
.0005
.001
.001
S.F.M
625
825
825
575
800
575
950
1200
800
900