V-4 80-55-06 ASTM A536 SG Ductile Iron Stock Supplier
80-55-06 ASTM A536 SG Ductile Iron Features Extra Strength
Continuous Cast Iron Suppliers >>>>> Ductile Iron >>>>> 80-55-06
Choose Versa-Bar 80-55-06 ductile iron for...
Better bulk pricing
Flexible supply packages
Quick nationwide delivery
FREE QUOTE
80-55-06 ASTM A536 SG Ductile Iron Chemical Composition

Carbon
Silicon
Manganese
Sulfur
Phosphorus

3.5-3.9%

2.25-3.0%

0.15-0.35%

0.025% max

0.05% max
Material Properties
Tensile strength
80,000 psi
Yield strength
55,000 psi
Elongation, %
6%
Brinell hardness range
187/269
Microstructure, as cast
Pearlitic
Machinability
Good
Heat treatment
Normalize or Oil Quench and Tempered
ASTM Specification
A-536
V-4 (80-55-06) ductile iron has a tensile strength of 80,000 psi with a yield strength of 55,000 psi and elongation of 6%. Of the three grades of Versa-Bar ductile iron, 80-55-06 ductile iron is the strongest. It may be heat treated to reach 100,000 psi tensile strength. Due to its pearlitic structure, V-4 can be expected to machine 10-15% below the rates of V-3 (65-45-12).
80-55-06 continuous cast ductile iron is used for a variety of applications, including:
When the physical properties of steel are desired, users will turn to V-4 as an excellent replacement. After all, it has several features surpassing steel as the more efficient, affordable metal for your custom cast components.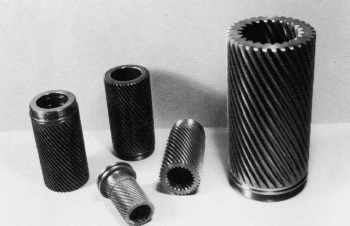 These are rotary actuator piston sleeves made of V-4 (80-55-06) ductile iron. These worm gears are grooved on the O.D. and I.D. The O.D. is then threaded with ring grooves placed on both O.D. and I.D.
Grinding
Horizontal & vertical machining
V-4 Continuous Cast Ductile Iron a Direct Steel Replacement
80-55-06 ductile iron brings you tremendous cost savings as a steel alternative when using for parts requiring a lot of machining. Its machinability rating will be similar to common carbon steel grades such as 1144, 1141, 11L17 and 12L14 but will reach much higher machining speeds.
Versa-Bar continuous cast iron offers several benefits over steel, including greater natural corrosion control, more flexibility in the field, and less intensive maintenance. From just about every angle, 80-55-06 ductile iron is a much better metal for custom metal components than steel.
80-55-06 Ductile Iron Stock Material
Versa-Bar 80-55-06 Ductile Iron Promotes Oil Retention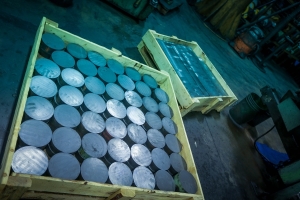 V4 80-55-06 ductile iron is a direct steel replacement.
Versa-Bar ductile iron from American Iron & Alloys provides unmatched benefits in terms of durability and longevity. A higher graphite flake count present in 80-55-06 Versa-Bar promotes retention of oil and self-lubrication, keeping your parts lubricated for longer. In the event of an oil loss, Versa-Bar's ability to retain oil means your custom components are more likely to survive. The continuous casting process makes our Versa-Bar metalurgically superior to any other metals on the market.
80-55-06 ductile iron (and all other grades of ductile iron from AIA) feature high machining rates and good dampening capacity combined with high strength.
Versa-Bar is a high quality metal offered to you as raw stock and as precision CNC machined custom components at a low price.
Versa-Bar beats aluminum, bronze and steel. Every time.
The following chart displays speeds and feeds for aluminum, bronze, steel and V-4 80-55-06 ductile iron. The rates were used by the field test operator for normal production requirements on the machine used.
Operators were asked to reach the optimum sfm on the Versa-Bar and maintain comparable depth of cut and surface roughness with each of the other metals. All tests were performed on conventional tooling and equipment. Here are the results:
CAST IRON
ALUMINUM
BRONZE
STEEL
V-4 DUCTILE
(80-55-06)
6061-T6
2024 T-3
SAE 660
C-1045
R.P.M
1100
1500
550
1100
1500
1100
1100
1500
1100
1500
FEED
.009
.013
.006
.009
.013
.009
.009
.011
.009
.013
DEPTH OF CUT
.125
.060
.180
.125
.250
.125
.125
.125
.125
.125
LENGTH OF CUT
4"
4"
4"
4"
4"
4"
3.25"
3.25"
5"
5"
R.M.S
63FS
63FS
80FS
60FS
125FS
60FS
80FS
80FS
63FS
150FS
WITH COOLANT
YES
NO
NO
YES
YES
YES
YES
YES
YES
YES
MACHINE HORSEPOWER
7HP
7HP
7HP
7HP
7HP
7HP
7HP
7HP
7HP
7HP
TAPER
.001
.001
.001
.001
.001
.0005
.0005
.0005
.001
.001
S.F.M
575
800
270
575
800
575
950
1200
800
900

Contact 80-55-06 ductile iron suppliers at American Iron & Alloys for more information about our gray and ductile iron stock.