CNC Milling Services in Waukesha, Wisconsin
Precision CNC Machining Services >> Milling
Our Milling Shop's Flexible Precision Machining Capabilities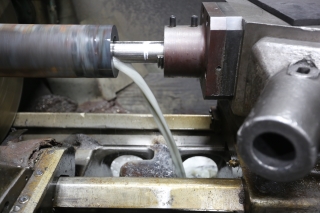 Our machine shop boasts the flexibility to produce a huge variety of custom metal components.
The high precision metal milling and custom cutting services offered at American Iron & Alloys are best suited for individuals and companies interested in purchasing cast iron, bronze, steel, and Versa-Bar metals made to order. We provide the closest cuts and highest grade bronze and Versa-Bar manufacturing for the convenience of businesses around the country. If you are looking for impressively manufactured grades of bronze alloys, custom fabricated Versa-Bar metal, and efficiently milled metals, enlisting American Iron & Alloys is your best solution.
What is CNC Milling?
With more than 30 years of experience in the continuous cast iron and bronze machining business, American Iron & Alloys has become a highly reputable raw stock provider and CNC machine shop. In milling, we use rotary cutters in a machining process designed to remove material to give cast alloys the shapes they need for a number of different applications, such as the machining of:
Conveyors
Custom racking
Lighting
Machine tool parts
Ventilation system supports
As one of the most popular metal shaping processes, CNC milling machines parts to strikingly precise shapes and designs. The milling process utilizes a cutting machine, known as a mill, to make perpendicular cuts to the surface of a material or alloy. By making a collection of tiny and separate cuts, milling services are able to remove material in a highly specific technique to guarantee close and accurate cuts. We use different feed rates to ensure our milling machines finish cutting jobs as quickly as possible.
A Brief History of CNC Milling Services
Milling has come a long way since Eli Whitney built the first milling machine in 1818. Originally, milling services were used to simply cut a six-sided hex nut. Following this humble start, milling evolved and became capable of milling three dimensional copies of templates after a few decades of development. At first, milling machines were operated by hand, but following the Second World War, digital computers were incorporated into the build of milling machines in order to optimize their duties.
Following this incorporation, milling machines began being referred to as "CNC milling machines" with the C.N.C. standing for "Computer Numerical Control". Since computer technology began being used in conjunction with milling services and tools, small CNC machine shops like American Iron & Alloys have grown substantially. Manufacturing circuit boards, various parts of guns, and other practical and artistic products could realistically be produced by a local business with a modest investment.
Using Versa-Bar & Milling Services to Create the Best Custom Metal Components
American Iron & Alloys has CNC milling services for the convenience of our customers who are looking for precisely cut metals and materials for their projects. Aside from being able to simply mill, machine, and cast metals, American Iron & Alloys can also fabricate and cast Versa-Bar, bronze, and steel metals.
When you pair American Iron & Alloys' high quality metals with our efficient, precise CNC machining services, the result is always exceptional. With American Iron & Alloys, there is no guessing or hoping. Have us fabricate the metals you need, whether it be Versa-bar, bronze, or steel, and we'll cut it to your satisfaction with professional focus and expertise—every time.
For more information on our Versa-Bar and bronze metal casting, contact American Iron & Alloys today!