Professional CNC Boring Services in Waukesha
Precision CNC Machining Services >> Boring
Professional CNC Boring Services from American Iron & Alloys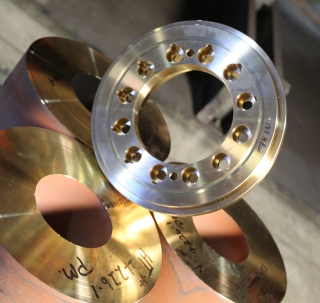 American Iron & Alloys' CNC shop is capable of producing all sorts of different custom bronze machined parts.
Our CNC machine shop has the capability to produce any kind of metal component you've got drawn up thanks to our comprehensive precision CNC machining services—including boring. Always the top option for construction project companies and coordinators, American Iron & Alloys guarantees products you order from us are American-made. Whenever high grade bronze alloys, professionally cast Versa-bar metals, and expertly bored materials are at the top of your priority list, give American Iron & Alloys a call and we'll take care of what you need.
What are CNC Boring Machining Services?
Using our single-point cutting tools, we use our CNC boring services to enlarge holes already cast or drilled in an effort to create various custom metal parts. CNC boring machining uses a variety of tools to perform these precise cuts, including:
Drill bits
Milling cutters
Reamers
Thread cutters
Whether you are looking for professional line boring or back boring services, American Iron & Alloys has the experience and resources needed to deliver expert CNC boring services to match your specific needs. American Iron & Alloys has a number of other CNC machining services available for you to consider for your next project.
What are CNC Boring Services Used For?
CNC boring services are a crucial component in precision CNC machining and continuous cast iron services. Many different industries rely on these services to provide the products and materials they need to complete their construction projects. Industries all across America rely on specific machining techniques to produce highly precise CNC parts. American Iron & Alloys' CNC boring services have a number of capabilities, such as:
Electrode molds
Line boring
Pull boring
Push boring
Whether you are looking to have us work with alloy steel, titanium, or bronze materials, American Iron & Alloys also has our own Versa-Bar, bronze, and steel metals available for you to have us work from. With over thirty years of experience with metal casting and machining, American Iron & Alloys has had the time to develop and improve our services to be highly precise and efficient.
Versa-Bar Metal & CNC Boring Services: American Iron & Alloys Does it All
When searching the country for the best metal casting services, consumers turn to American Iron & Alloys time and time again. Our gray iron Versa-Bar and ductile iron Versa-Bar cast metals are popular choices in today's day and age by industry leaders everywhere.
If you want to save money and time on the first part of your construction project, turn to American Iron & Alloys for real, affordable solutions. We can not only cast your Versa-Bar metal products, but thanks to our top notch CNC boring services, we can deliver impressively precise cuts as well. For quick castings and accurate cutting/boring services, choose American Iron & Alloys.
Contact American Iron & Alloys for custom machined metal components out of our CNC machine shop.