CNC Plate Cutting Services
Precision CNC Machining Services >> Plate Cutting
Impeccable Plate Cutting Service from Nationwide CNC Machine Shop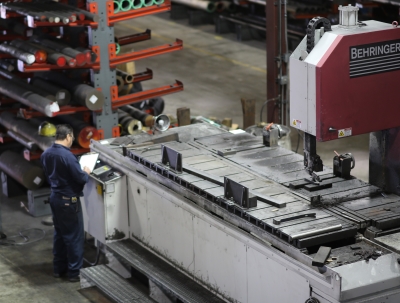 CNC (computer numerical control) plate cutting is a form of metal cutting used to make a clean cut through hard materials such as stainless steel, mild steel, carbon fiber, and aluminum. It can be used for standard, straight cuts, or to form intricate metal parts where human precision won't cut it.
Benefits of CNC cutting include:
Cheaper prices from custom tooling
Great for thick metal sheets that are normally extremely difficult to work with,
Effective method for cutting two-dimensional pieces that require extreme precision
Plate cutting is a highly complex skill that requires a great deal of machining knowledge and programming skills. This is why you stick with the best—the highly qualified CNC machinists at American Iron and Alloys in Waukesha, Wisconsin.
Wisconsin Metal Shop Offers Machining and Raw Material Services
In addition to CNC metal cutting, American Iron and Alloys also offers premium quality raw materials. We stock a wide variety of alloys, sheet metals, and Versa-bar cast iron -- a high-quality, superior cast iron bar that is great for a plethora of commercial services. Some of the industries we currently serve include the automotive industry, construction, military applications, and more!
All precision CNC machining services are done in-house, which means no sending your parts to other facilities. This ensures that we move at a quick, timely pace so you spend less time waiting for your parts! Versa-Bar cast iron can be used to make:
Dyes
Molds
Breaks
Most sturdy metal component
Benefits of Versa-Bar Continuous Cast Iron
Versa-Bar is a significant, new form of cast iron that's easier to machine than any of its competitors. Compared to brass, bronze, and various available alloys, Versa-Bar's metallurgical makeup is substantially more cost-efficient in its machinability and versatility. It has the ability to retain oil better, so parts stay lubricated longer. Its non-abrasive texture means it will wear more evenly and naturally than other metals.
Metalworking Machinery Capabilities
Utilizing these techniques, we are able to machine practically anything you can draw up. CNC machining has revolutionized the metalworking industry to the point that we can produce high-quality metal components at an efficient, unbelievably speedy pace. This means that we'll have your finished product in your hands in no time!