CNC Turning Services
Precision CNC Machining Services >> Turning
What is CNC Turning?
CNC (Computer Numerical Control) turning is a machining process where computer-controlled machining tools operate around a turning metal lathe to achieve a particular result. Because the piece of metal is spinning, the machinist is able to create a variety of different shapes, gouges, chips, and other designs.
Since the process is entirely computer-aided, technology has made the need for hand machining obsolete. The level of accuracy and complexity achieved by CNC turning is much higher than traditional machining methods, and machinists are now able to produce custom machined components faster than ever before.
What CNC Turning Centers Produce
Our CNC shop boasts advanced turning machines: 6 CNC horizontal lathes, 3 manual turret lathes and 3 automatic chucker lathes. You draw it up, we'll make it. We'll supply the material and machine it into the exact component(s) you need. Utilizing CNC Turning centers, our engineers and machinists are able to create a variety of different metal components for a wide range of commercial and industrial applications including:
Hydraulics: pistons, glands, manifolds
Patterns, molds, mounting plates, pins
Brake discs, bearing caps, valve guides
Glass molds: neck rings, plungers, cores
Dies, rollers, sleeves, spacers
Value-Added CNC Machining Services
American Iron & Alloys machine shop handles every aspect of your project, from supplying the materials to machining the product and on-time distribution. Our capabilities for producing custom metal components include:
What Metals are CNC Compatible?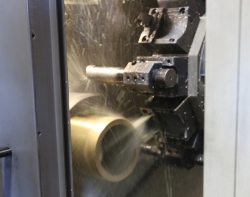 American Iron and Alloys currently stocks various metals, alloys, and other materials that are eligible for CNC turning. Custom machine stainless steel, carbon fiber, and best of all Versa-bar continuous cast iron to your individual needs and specifications. Versa-bar is a form of cast iron that is substantially easier to machine compared to many other available metals and alloys. In terms of performance, Versa-bar iron retains lubrication better, wears much more efficiently, and is a cheaper alternative to metals such as bronze, aluminum, or stainless steel.
Turning for a Variety of Industries
American Iron & Alloys is the trusted metal supply partner for countless businesses across a wide variety of industries nationwide. If you're in need of a metal supply partner, consider partnering with American Iron & Alloys for high-quality metal, precision CNC machining, and a reliable supply chain. We perform custom metal services for many industrial areas including automotive & racing, fluid power, foundries, construction, military applications, and more!
Contact American Iron & Alloys for precision CNC turning of cast iron, bronze or steel metal components.