Cast Iron Bearings & Bearing Housings
Specialty Castings & Custom Shapes >>>>> Bearings
Choose Versa-Bar if you seek...
Decreased material costs
Improved machinability
Superior performance & durability
FREE QUOTE
American Iron & Alloys Manufactures Custom Cast Iron Bearings
Cast iron's low friction, durability and corrosion resistance make it an ideal metal for bearings. However, not all cast iron is created equally. Versa-Bar offers significant advantages over other cast iron products.
The continuous casting process we use to make Versa-Bar creates metallurgically superior parts. Continuous cast metals solidify at a more uniform rate than sand cast components and other steel alternatives, resulting in far more durable bearings and bearing components.
Besides being the leading supplier of Versa-Bar cast iron, American Iron &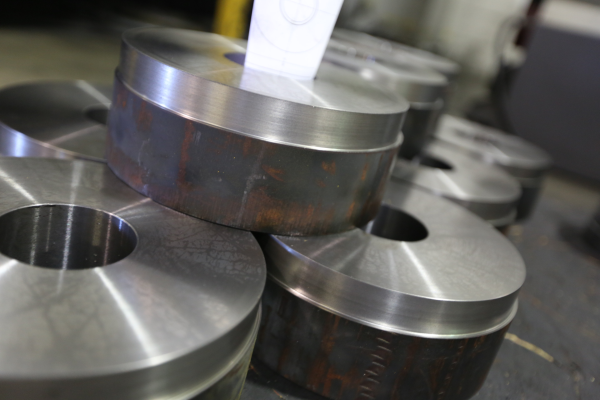 Alloys also offers in-house specialty castings and a CNC machining shop where we can manufacture bearings to your precise specifications. Ball bearings, roller bearings, spherical bearings, sleeve and clip bearings—whatever type of bearing you need, we can produce them more cost effectively than if you buy Versa-Bar stock from us and have it shipped somewhere else for casting and machining.
As an early proponent of the lean supply approach, American Iron & Alloys has developed systems that enable us to respond quickly to our customers' changing needs. Our efficiencies make us uniquely qualified to provide both raw Versa-Bar cast iron and finished bearings on an as-needed basis. Let us know how we can help you.
We Stock Versa-Bar Continuous Cast Iron in All Grades
American Iron & Alloys is the worldwide leader in Versa-Bar continuous cast iron tubing, bars and components, so you can count on us always having what you need. Ductile or gray iron, from V1A to V5, American Iron & Alloys is a reliable, cost-effective source for both raw materials and finished bearings manufactured to your precise specifications.
Cast Iron Grades Available through American Iron & Alloys
We offer custom gray cast iron supply programs and ductile cast iron supply to companies in the fluid power industry all over the United States:
Request a Quote on Versa-Bar Cast Iron Bearings
American Iron & Alloys offers extremely competitive pricing on both raw Versa-Bar stock and custom bearings, sleeves and components made to your specifications. We have the technology and the expertise to produce any type of bearing you need—with the highest cast iron available. Request a quote today. All we need to get started is a drawing of your part and specifications.
About American Iron & Alloys: Based in Waukesha, Wisconsin, American Iron & Alloys has been providing quality Versa-Bar continuous cast iron and other metal products since 1982. We also have a warehouse and distribution center on the east coast to enable faster delivery to customers east of Wisconsin.