Advantages of the Continuous Cast
Saving Money in the Casting Industry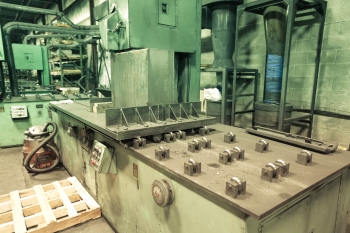 Understand how the continuous casting process produces the highest quality parts for the lowest production costs.
Introduced in the 1950s, the continuous casting process was introduced to manufacturers as a money saving alternative to ingot casting. Turn the clocks ahead to 2016 and continuous casting is still one of the most popular, cost effective casting techniques in the world. American Iron and Alloys, LLC is a proud contributor of the modern continuous casting movement as we provide our top-of-the-line Versa-Bar, the industry's premier continuous cast gray and ductile iron.
Our Versa-bar products are perfect for straight wear applications in the hydraulics industry and are ideal metals for bushings and bearings because of their superior metallurgical status.
Before doing business with us, it's important you have a comprehensive understanding of why American Iron and Alloys really does offer the best metal CNC machining & specialty castings services in Wisconsin and the US beyond. In order to gain this knowledge, you need to consider what continuous casting is and how our role in this process can help you save money.
What is Continuous Casting?
With the purpose of streamlining the production of metal slabs and bars, the continuous casting process made the casting of metals like brass, steel, aluminum, and copper much more efficient. With the nickname "strand casting", continuous casting is a simple four step process capable of improving productivity at any casting company. The steps are as follows:
First, a steel ladle containing molten metal is titled in order to pour the metal through a gas tight refractory tube into a container called a tundish.
Next, holes at the bottom of the tundish allow molten metals to flow into a series of copper molds at a controlled rate (Copper has great thermal conductivity so it is able to cool the metals without sticking to them).
Then, as the outer shell of the metals solidify, they are drawn through water sprays and curved pipes to help them cool.
Finally, the metals emerge from the process as solid strands of brass, copper, steel, Versa-bar cast iron or aluminum are cut into manageable strands for further manipulation, storage, or shipment.
Although the process is repetitive and tedious, it is far superior from the ancient method of casting ingots and is capable of saving you not only time, but money as well. Utilizing the continuous casting method is your key to profitability. The diagram below showcases this remarkable process.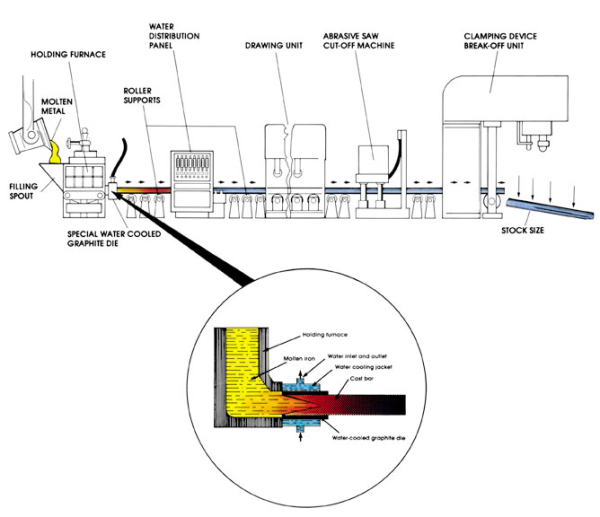 Comparing Continuous Casting to Other Common Casting Methods
From blooms to rounds, billets to thin-slabs, and conventional beam blanks to hear-net-shape beam blanks, there are a number of shapes you can create with the continuous casting process. In the past, parts were created by the hands of workers who were responsible for every step, but today, automated electrical systems have helped improve the precision of continuous casting.
When choosing which casting option you think is best for the parts you need completed, there are three main components you should consider:
Time Available
Part Complexity
Budget
Continuous Casting vs:
Continuous Casting vs Ingot Casting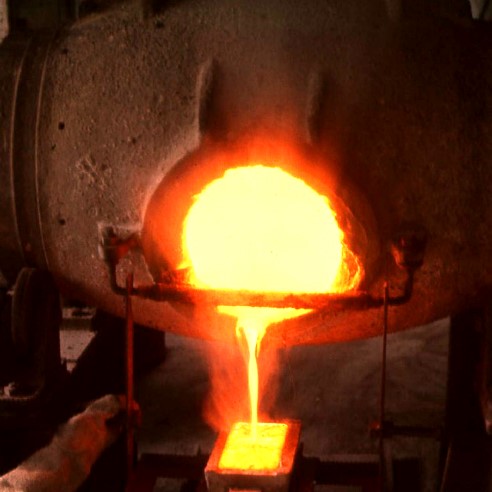 Before continuous casting exploded in popularity, manufacturers relied on ingot casting to produce slabs and bars. Unfortunately, 5 percent of ingots made in most productions are scrapped because of cracks and butt deformations occurring because of induced stress.
Five percent of 10 blocks made may not sound like the worst statistic in the world, but 5% of 250? That's 13 wasted blocks, which, if they're made of steel, can cost up to 200 plus dollars in wasted materials! If you're producing more than 500 blocks a month with ingot casting, the numbers really start adding up.
With no materials being wasted at all during continuous casting, you are able to completely optimize your production's cost effectiveness. This is the biggest advantage of the continuous casting process. The bars and slabs created are always solid with no cracks, meaning, unlike ingot casting, you will never have to throw away any cracked products. One of the best ways to save money is to increase efficiency, and, with continuous casting, you're able to manufacture large amounts of metal slabs and bars in shorter periods of time than you would with individually pouring your products with ingot casting.
As one of the best suppliers of continuous cast iron with our Versa-Bar products, American Iron and Alloys, LLC is your go-to for cost effective gray and ductile iron continuous cast iron stock and custom metal components.
Continuous Casting vs. Sand Casting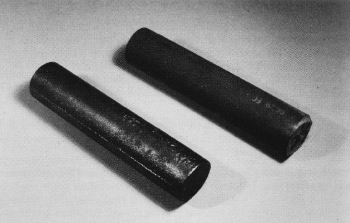 The continuous casting method offers a superior surface finish and virtually eliminates internal porosity and centerline shrinkage.
The majority of metal castings are produced through the sand casting process. However, there are clear deficiencies in the more popular choice when compared to continuous casting. When you're deciding which way to cast your parts, keep in mind the downfalls of sand casting.
Sand casting can produce a number of setbacks due to:
Shifting molds
A non-uniform cooling rate
Insufficient materials
Cracks forming in the sand mold
Low permeability
Too high of a melting temperature
Think it ends there? Continuous casting can even cost less. When you want molds created for parts with cores, the process takes much longer and everyone knows money is time. Need large parts created with the sand casting process? The bigger the mold, the bigger the price.
Continuous casting is a superior option to sand casting because of its speed and convenience. If you need bars made for your next project, don't have them poured one by one in molds perfectly created for every part you need. By sawing metal bars into the perfect sizes you need without wasting time on molds, you'll save money on time and materials when choosing continuous casting over sand casting.
Continuous Casting vs. Extrusion Molding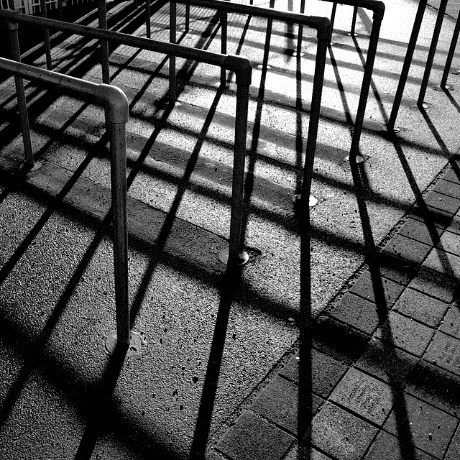 Known for its ability to force metals and plastics into a desired shape, extrusion molding is a popular option companies around the world have turned to when producing simple parts. Unlike continuous casting, the extrusion process of aluminum, iron, and steel rams one metal against another with excessive force so it is forced into a mold.
Extrusion is great for manufacturers who need basic bars and rods, but if you are seeking more complex parts, extrusion will only get you so far. Continuous casting has been a competitor with extrusion for years because it offers a similar process at a cheaper price with a greater ratio of successes. Need more information on what sets these two options apart? Learn more below about why our customers choose continuous casting over extrusion again and again:
Continuous Casting:
Less expensive due to lighter weight
Easy to cast voids and cores without excessive machining
A faster & cheaper process than extrusion
High tolerances with complex cast parts
Extrusion Molding:
Can only create uniform, cross-sectional shapes
Surface oxidation is a risk - can only be corrected with mechanical or acid strategies
Cannot match the complex casting abilities of continuous casting
Extruded parts can easily crack inside and out
The Best Supplier of Continuous Cast Iron with Versa Bar and CNC Machining Services
Profitability and productivity are two of the most important benefits any product can supply a manufacturing company. If you want to make an investment in your production of slabs and bars, look no further than American Iron and Alloy's best brass, aluminum, steel, and copper alternative: Versa Bar. It's a superior product, known for:
Saving manufacturers money
Increasing machining performance
The longest lasting custom metal components
Versa-Bar continuous cast iron offers you, time and time again, an affordable and superior alternative to other metals. It contains greater metallurgical properties, making Versa Bar supreme when compared to older, traditional sand castings. Versa-Bar contains microscopic flakes of graphite, helping retain oil and keeping machine parts lubricated during continuous casting. Aside from reducing production time with our Versa-Bar, American Iron and Alloys also specializes in precision machining services for your company's needs.
Whether pre-machined or finished complete, we provide value adding processing services to save you money by increasing efficiency. A wide range of machining capabilities are available with American Iron and Alloys, including our fluid power, machine tool, construction, and off highway equipment services.
We provide raw materials and fully machined metal parts, giving you the freedom to customize your supply program completely. Versa-Bar gives you the increased efficiency you need with your continuous casting process and our CNC services save you money on transportation, inventory, and manufacturing costs—proving we truly are the best metal CNC machining and specialty castings provider in Wisconsin.
Contact American Iron & Alloys for continuous cast iron, metal stock and custom brass, bronze, steel and cast iron components.