Cast Iron Precision Machined Components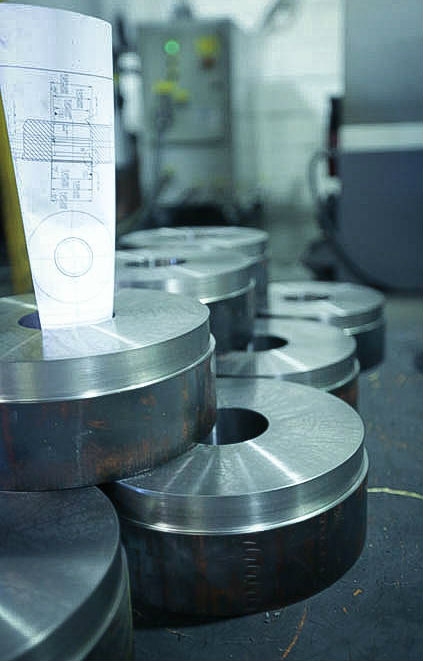 Casting success with better materials
The machinists at American Iron love using Versa-Bar for precision machining. Continuous casting means the iron contains microscopic graphite flakes, allowing longer oil retention. The tiny recesses created by the graphite keep oil on the material longer, but if oil is lost, they act as a self-lubricant. These and other metallurgic properties make Versa-Bar an extremely easy-to-machine steel alternative. Precision machining is faster and better with continuous cast iron raw stock.
We offer precision machining on all three grades of Versa-Bar. Our V-2 class 40 gray iron is commonly utilized for bearing and bushing applications in hydraulics. The most commonly used grade of cast iron, V-2 gray iron, made with a continuous casting process, holds 40,000 psi in tensile strength. Our V-3 astm 65-45-12 ductile iron provides astonishing wear resistance and high strength for hydraulic pistons. The most heavy-duty option is the V-4 80-55-06 ductile iron. This grade provides up to 100,000 psi tensile strength and is great for use in place of steel.
American Iron excels in creating the highest quality products by using a higher quality iron. Rings, pistons, gears, and many other components are created to high levels of precision. Versa-Bar products are virtually free of rejections due to porosity and centerline shrinkage, minimizing waste and increasing overall efficiency. The time and money we save machining Versa-Bar are passed on to you with lower prices for better products.
Compared to the sand-cast iron, steel, and aluminum commonly used in the manufacturing and fluid power industries, Versa-Bar is clearly superior. Versa Bar is less expensive to produce and easier to machine, dramatically reducing the cost per part. Make the switch by ordering your precision-machined iron components from American Iron.
Contact American Iron for cast iron machining and components to your precise specification.