CDA 863 Manganese Bronze Bars & Tubing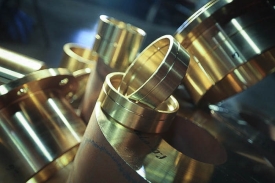 Custom components made of CDA 863 manganese bronze.
C86300 Manganese Bronze Built Tough for Industrial Applications
American Iron & Alloys provides tough CDA 863 manganese bronze unprocessed bar stock or finished custom components for heavy load applications. C86300 performs best with reliable lubrication at low speeds. CDA 863 features high strength and corrosion resistance, better than general purpose bronzes for marine parts. The lead present in the chemical composition improves its machinability without having a major effect on its mechanical properties.
CDA 863 Bronze is Key for Many Industries
Non-heat treatable CDA 863 manganese bronze is used in the wood pulp industry, and is a key component in steel mill equipment and earth moving machinery. C86300 is good for coated metal arc welding, but not desirable for:
Soldering
Oxyacetylene welding
Gas shielded arc welding
Brazing
Carbon arc welding
CDA 863 Manganese Bronze
Chemical Composition
Copper
Iron
Aluminum
Manganese
60 - 66%
2 - 4%
5 - 7.5%
2.5 - 5%
22 - 28%
0.20%*
0.20%*
1%*
* indicates maximum value
Physical Properties

Imperial
Metric
Liquid Melting Point
1693°F
923°C
Solid Melting Point
1625°F
885°C
Density
0.283 lb/in3 at 68°F
7.83 gm/cm3 @ 20°C
Specific Gravity
7.830
7.83
Thermal Conductivity
20.50 Btu · ft/(hr · ft²·°F) @ 68° F
35.5 W/m · °K @ 20° C
Electrical Conductivity
8%IACS @ 68° F
0.046 MegaSiemens/cm @ 20° C
Coefficient of Thermal Expansion
12 · 10-6 per °F (68-572° F)
21.6 · 10-6 per °C (20-300° C)
Modulus of Elasticity in Tension
14,200 ksi
97,900 MPa
Specific Heat Capacity
0.090 Btu/lb/°F @ 68°F
377.1 J/kg · °K @293 K
C86300 Manganese Bronze Stock Material

Our supply of custom cast rounds, bars, and rods make it easy for you to find exactly what you're looking for without throwing money out the window. Call us today to place your order on these and other similar custom cast bronze bars.

Looking for the best CDA 863 bronze bar stock available in the United States? There's only one company to turn to. American Iron & Alloys has been casting custom cut piping and tubes for years. We approach every order with the same professional mindset, making sure you're shipped exactly what you ordered the first time.
Bronze Suppliers Perform Many Value-Added CNC Services
C86300 Manganese Bronze is used almost exclusively in the industrial market as a tough component of heavy duty industrial machinery and equipment. American Iron & Alloys supplies CDA 863 as raw stock, or performs myriad finishing services to get you custom cast bronze components for a low price:
You may purchase and machine raw CDA 863 manganese bronze on your own, but you may see cost and time savings by allowing us to perform the CNC machining as well. Our state-of-the-art CNC shop allows us to produce high quality bronze components for a low cost in very little time utilizing top-of-the-line cutting, milling and plate slitting equipment.
CDA 863 Used in Several Custom Continuous Cast Bronze Components
CDA 863 manganese bronze is used to create custom cast bronze components giving you long life and extended durability. Manganese bronze is used for the following common industrial parts and components:
Hydraulic cylinder parts
Electrical components
CNC machining professionals at American Iron & Alloys provide rough and finished bronze material and components built to your exact specifications. We provide CDA 863 manganese bronze at any level of production: as raw stock, unprocessed bronze tubing or perfectly machined ready-to-use parts. We distribute across the United States to Milwaukee, New York, North Carolina, California, Texas, Illinois, and beyond.
Contact C86300 manganese bronze dealers to order custom cast CDA 863 manganese bronze bars, tubes and other components.