Bronze Bars, Rounds & Rods
Choose our bronze stock for...
Better bulk pricing
Flexible supply packages
Quick nationwide delivery
Bronze Bar Stock Supplier in Wisconsin
American Iron & Alloys offers discounted bulk pricing and custom bronze stock supply programs to companies across the United States. Nickel aluminum bronze bar, manganese bronze bar, leaded tin bronze bar, phosphor bronze bar, silicon aluminum bronze bar, sintered bronze bar – you name it, we've got it.
Send us your specifications and we'll help you put together a supply package fitting your needs at a price you'll love.
Our supply programs are built around a package of materials. You may package bronze bars with continuous cast iron stock or steel – in full bars, rough processed, finish machined or simply cut to length.
Order Raw Materials Only – Or We'll Machine Bronze Parts In-House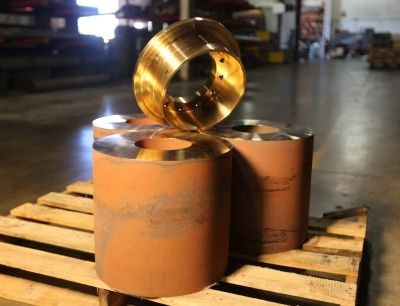 We provide raw bronze bar & round stock or finish machine custom bronze components to your specs.
Beyond supplying metal stock, American Iron & Alloys Corp boasts a world-class CNC machining shop capable of machining custom bronze components built exactly as you need them. Our grades of corrosion resistant bronze are highly appropriate for marine applications:
Bearings
Washers
Wear Plates
Liners
Pistons
…and much more
Precision CNC machining services include turning, milling, boring, plate cutting and more.
We offer huge savings combining distribution and production into a single purchase. Trim shipping costs, get a higher quality product with greater strength and longevity. The path forward is clear.