Specialty Cast Iron and Bronze Castings & Custom Shapes
Custom Castings Made to Your Precise Specifications
We machine the highest quality custom iron and bronze components in our state-of-the-art CNC shop.
Whether you are looking for hard to source sand castings or need to cast a special shape from a continuous cast iron bar, American Iron & Alloys has the solution for you.
We have teamed up with foundries who cast iron, steel and bronze parts where quantities don't merit expensive production tooling. Often a continuous cast shape can be the best alternative for a simple shaped casting where many foundries no longer want to produce those types of parts.
American Iron & Alloys has casting source options, as well as continuous cast gray and ductile iron shape design capabilities, which offer excellent value to customers looking for a quick alternative to prototyping, or a lower cost option for small to mid-size production castings.
Whether you need a large single cast ring, a shape to substitute for a current casting, or just a new home for a more a complex casting with multiple cores, American Iron & Alloys has the ability to help you select the best solution for your casting needs.
Fabricating Custom Cast Components from Versa-Bar Cast Iron and Several Grades of Bronze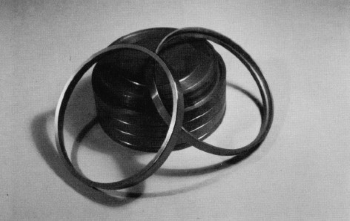 These stepped hydraulic seal rings are double-parted from the same bar. Versa-Bar's homogeneous matrix allowed the customer the necessary yield per bar to utilize this economical process.
American Iron and Alloys will create custom metal components made to your exact predetermined specifications, or help you determine what grade of iron, bronze or steel is best for you in price and application. We've got a variety of continuous cast iron grades for you to choose from, including:
If cast iron isn't right for your specific part or application, and you need a more corrosive-resistant option for marine parts, we've also got several grades of bronze you may choose from:
CNC Technicians Machine Continuous Cast Iron Components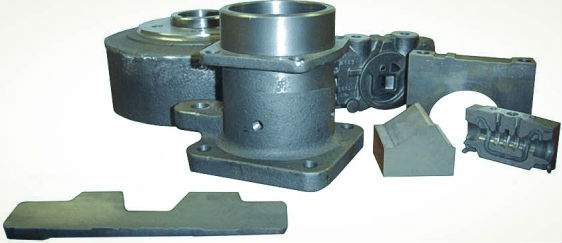 Precision machined CNC parts of all shapes and sizes.
If you are unsure of the exact specifications, let one of our specialists help find a match for your metal casting requirements.
Even older, out-dated specifications and drawings can be matched to meet your part's physical requirements with today's recognized standards.
Versa-Bar and our casting services offer you flexibility in design and lower cost for tooling for smaller run quantities of castings or prototype development. American Iron & Alloys Casting Source Services is a value which complements all metal bar and finish machine part supply programs we offer. No matter what the shape, size or complexity, American Iron and Alloys can help you find cost saving sources and alternatives for your casting.
We can cast and finish any number of parts with your specifications including:
Contact our custom casting experts at American Iron and Alloys to source your cast component and shapes.