V-1A Glass Mold Class 25 Gray Iron Stock Supplier
Continuous Cast Iron Suppliers >>>>> Gray Iron >>>>> V-1A Glass Mold Class 25
Class 25 Gray Iron Chemical Composition

Carbon
Silicon
Manganese
Sulfur
Phosphorus

2.6 - 3.75%

2.3 - 3%

0.035 - 0.10%

0.025% max

0.10% max
V-1A ferritic gray iron for the glass mold industry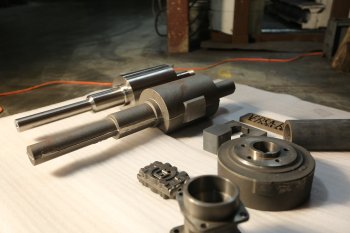 Class 25 gray iron (25,000 psi) is used for many custom-cast parts.
Versa-Bar V-1A was initially developed for the glass mold industry, which requires a fine grain structure and a superior machining finish. Our continuous cast process results in an iron that is not only metallurgically superior to other steel alternatives but also more cost-effective.
Our V-1A gray iron comprises Type D graphite in a mostly ferrite matrix. The smaller graphite flakes and size and the ferritic matrix structure enhance ductility and result in healing and cooling cycles having little effect on dimensional growth. This makes it a favored choice for glass mold applications, such as blank molds and plungers.
Contact cast iron suppliers at American Iron for a quote on stock material or custom cast components.
While the high thermal conductivity of V-1A and its specific heat capacity make it ideal for decorative castings, the presence of graphite flakes and the excellent damping characteristics of this iron makes it also useful for applications involving wear, such as cutting tools and engine blocks. Versatility is a hallmark of Versa-Bar, and our customers find new applications daily.
Possible applications of V-1A class 25 gray iron:
Your source for V1A glass mold iron and precision cast components
American Iron is not only the largest provider of Versa-Bar continuous cast iron in North America, but we also offer a range of custom machining services and specialty castings. By consolidating your purchase with our machining, we can produce what you need at a significantly lower price than if you were to source the materials and the machining separately.
Contact American Iron for a quote on Class 25 gray iron stock or custom cast components.