Specialty Bronze Components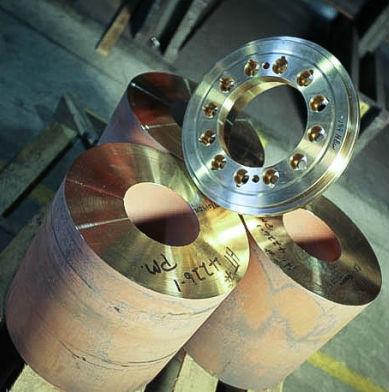 Bronze Bars and Pipes Sold as Raw Stock or Finish Machined Components
American Iron & Alloys is your single source for a wide variety of grades of bronze, whether you prefer to buy as bulk stock or need CNC machining services to engineer custom bronze components such as bearings, bushings, pistons, thrust washers, and any other parts you need.
We cater our services to your exact specifications. Our metal supply programs typically feature a package of materials, potentially containing both our continuous cast bronze and iron, among other alloys. American Iron & Alloys provides metal stock in full bars, rough processed, cut to length, finished machined or in a combination of ways.
American Iron & Alloys has been giving customers more control than our competitors since 1982. Take advantage of our flexible purchasing program and save money on custom cast iron and bronze components: contact us for a free quote today!
Value-Added Services Keep Your Costs Low
Bronze stock dealers at AIA do more than simply stock and distribute metals. We save our customers the most expense by handling the stock, production and shipping of custom cast bronze components. You may purchase C95400, C95500, C93200 or C86300 bronze straight out of stock, but you may potentially save on transportation and other extraneous costs by having us finish machine your custom components as well.
Our value-added CNC machining services include:
Rough turning
Boring
Finish machining
Cut to length
Turning
Plate slitting
We tailor our service to your needs, getting you the highest output for the lowest price.
Contact American Iron & Alloys, the bronze bar and pipe dealers, for raw metal stock and custom bronze components.