Machined Metal Components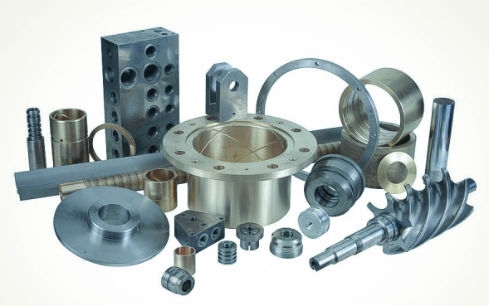 Metal Stock Supplier Also Offers Custom Metal Machining Services
Versa Bar continuous cast iron and continuous cast bronze is readily available in standard shapes like rounds, squares, rods and tubes. Businesses looking for unique shapes or totally customized components can order continuous cast iron and bronze with value added machining directly from American Iron & Alloys.
Our Midwest warehouse and distribution center is also home to our CNC machining division. Thanks to the unique metallurgical properties of continuous cast iron and bronze, our machinists are able to make almost any shape quickly and easily. Versa Bar can be used to make rings as thin as .010, complicated worm gears or even hydraulic manifolds. The possibilities are as endless as your uses.
Fast Feed Rates and Low Tool Wear Mean Cost Savings
Compared to milling sand cast bronze and iron and metals like steel and aluminum, Versa Bar offers many advantages. Chief among them are very fast feed rates and minimal wear on tools. This means our machinists can prepare custom metal components in significantly less time than it would take with other materials.
And, with decreased tool wear, our overhead on replacing worn out equipment is drastically reduced. Taken together, these benefits let American Iron & Alloys provide finished, custom metal components in bronze and iron at surprisingly low prices.
Working with continuous cast bronze and iron can be a bit of an adjustment for machinists unfamiliar with them. Do not waste time waiting for your in-house machinists to learn to take full advantage of the benefits of continuous cast metals while putting unnecessary wear on tools. Let the Versa Bar experts at American Iron & Alloys perform cost saving CNC machining on your next order of continuous cast iron or bronze.