Custom Metal Component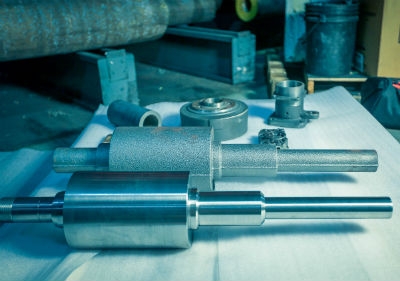 Custom Metal Components Include Cylinders, Pistons and Manifolds
Metal fabricators at American Iron & Alloys take advantage of versatile continuous cast iron to machine custom cast metal components and other specialty castings. Ordering specialty items in low quantities can be very expensive, as the machinery used to produce them is meant for bulk production.
However, our CNC machining shop in Waukesha, WI has the capability of producing short runs of specialty iron components for the lowest cost you will find.
Versa Bar continuous cast iron has a unique metallurgical make-up, allowing for much better machining rates. With our new tooling and coolant technologies, we can machine at rates better than or equal to aluminum, bronze and steel. Machining using continuous cast iron as opposed to the cheapest brand of aluminum is up to 45% less expensive.
The savings we achieve by using Versa Bar is passed on to you in the form of lower prices. Don't miss this opportunity to get ultra durable specialty castings at the very lowest cost!
Continuous Cast Iron Rounds Dealers Provide Fabrication Services
We can ship you bulk cast iron and bronze stock, or machine our supply of continuous cast iron and bronze into rounds, squares, tubes, rectangles or any other custom shapes. We provide you with metal stock based on your specifications and unique requirements.
Cast Iron Stock Options
American Iron & Alloys creates custom specialty components using many different value-added CNC machining services, such as:
No matter your specific needs, American Iron & Alloys is ready to help you draw up designs for custom specialty components and produce them for the lowest cost possible. No other metals fabricator and distributor works harder to make high quality products at a low price.