CNC Machining Services for Bronze Parts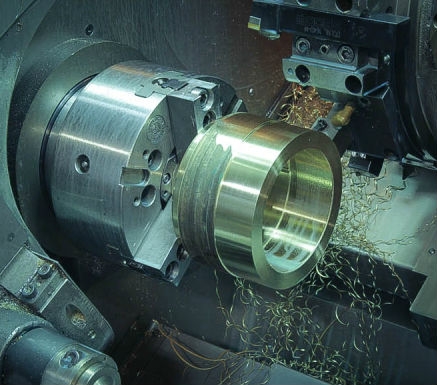 American Iron offers lean manufacturing solutions and supply programs
American Iron is your one-stop shop for bronze raw stock and machined bronze parts finished by our expert CNC machinists at our shop in Waukesha, WI. We build custom bronze components based on your exact specifications. We also sell bronze bar, tubing, and pipe stock, but our specialty is taking that bronze stock and producing custom parts to your specifications for you as well, lowering the production cost and saving you time.
Our precision CNC machining services for bronze include finished machining, plate slitting, turning, grinding, milling, boring, and cut to length.
CNC professionals produce precision machined bronze components
Precision machining is used on many materials, including steel, iron, and bronze. American Iron specializes in the custom precision machining of bronze components, and our staff of skilled precision machinists is proficient with the various required tools to produce the highest quality components, such as lathes, milling machines, saws, grinders, and drill presses.
American Iron provides many grades of bronze for you to select from, giving you the most price flexibility and versatility in selecting the right bronze components. We provide a wide variety of grades of bronze stock, including a few of the most popular grades:
Our precision machining services produce large and small custom bronze parts, including bushings, bearings, pistons, thrust washers, and more. No matter the specifications of your design, we can precision machine it.
Contact American Iron for finished machined bronze bearings and components.