Machined Bronze Components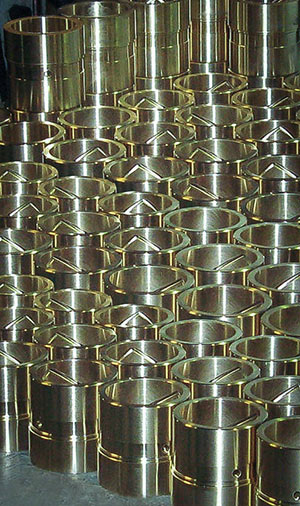 In House Machining of Continuous Cast Bronze Yields Perfect Results
American Iron & Alloys supplies many grades of continuous cast bronze and has the staff of machinists and selection of lathes, mills and CNC machines to provide in-house component machining in almost any volume. Whether you need one CDA 863 valve stem or a steady supply of CDA 954 bearings, American Iron & Alloys will deliver.
Drawing from our selection of continuous cast bronze tubes and bars, we will cut, bore, turn, mill and finish whatever component you need. Choose from Aluminum Bronze (CDA 954), Nickel Aluminum Bronze (CDA 955), 660 Bearing Bronze (CDA 932) and Magnesium Bronze (CDA 863).
Continuous Cast Bronze Experts Meet Large and Small Orders
Working with American Iron & Alloy, you'll find we possess expert knowledge on continuous cast bronze. If you don't know what grade of bronze is best for your application, we'll help you pick the right one.
Our huge inventory of bronze tubes and bars allows us to meet any size order. While we're big enough to fulfill huge, production run sized orders, we'll happily deliver small quantities and even single pieces. American Iron & Alloys meets customer demand at reasonable prices with fast turnaround times. Depend on the nation's continuous cast bronze experts for all your custom bronze part machining.
Contact bronze machining specialists at American Iron & Alloys for a quote on your bronze alloy components.