Machining Iron vs. Steel: Why Versa-Bar Iron Grades Highest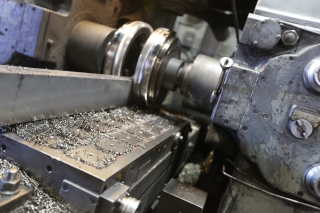 Want less expensive, higher quality parts? Switch from steel to continuous cast iron.
For years, the casting industry has been dominated by aluminum, magnesium, copper, steel, and iron alloys. Whether you have utilized iron or steel for the production of utensils, stoves, rods, or pots and pans, American Iron & Alloys will change the way you produce and invest, thanks to Versa-Bar.
As one of the newest metals in the casting industry, Versa-Bar has a number of significant benefits that put it far above other casting materials like bronze, iron, and steel.
In fact, we're confident enough in the properties and performance of Versa-Bar to say it is the best material for metal casting. Step aside iron and steel—Versa-Bar is here to stay.
Versa-Bar: The Superior Sand-Casted Iron & Steel Alternative
Made of high graphite flake content, Versa-Bar not only retains oil for longer lubrication, but basically lubricates itself whenever oil is lost as well. This game changing property is what sets it far above steel and iron. The high graphite is also well dispersed throughout Versa-Bar, working as an effective self-contained chip breaker. This results in lowered requirements for horsepower which can improve turning speeds by 30% or more. In other words, Versa-Bar's metallurgical makeup allows tools to have longer lives and saves companies time by helping decrease labor hours.
Any parts you produce using continuous cast iron Versa-Bar with will contain the non-abrasive qualities of this metal. Versa-Bar has the ability to withstand intense amounts of strength through heat treatment, including up to 100,000 psi tensile strength.
If you're still considering iron or steel, consider the machines who work with the metals you send through it. Versa-Bar has better vibration dampening capabilities than iron or steel, making it an efficient reducer of machinery noise, helping machines effectively control the fatigue caused by the vibrations.
Versa-Bar isn't some new fad—it's a truly superior alternative to traditional metals used in the casting industry.
Versa-Bar Shines a Revealing Light on the Shortcomings of Iron
Versa-Bar continuous cast iron has been used in a number of impressive projects, including the building and repair of various deep water oil and gas fields located around the United States. Unlike standard cast iron, Versa-Bar can be used in outdoor settings thanks to its high resistance and strength.
Sand cast iron, on the other hand, isn't quite as versatile as Versa-Bar. Not only is standard cast iron a heavy metal, but it easily rusts, making it completely unsuitable for large scale projects like the construction of energy infrastructure. When Versa-Bar is cut, it's ready for the field, but iron often times has to be finished with a protective coating to be anything close to durable.
Versa-Bar has proven itself to our customers around the United States. It is a more affordable alternative to steel, and has been proven to be 45% less expensive than the least expensive grade of aluminum available. Versa-Bar is one of the most inexpensive metals available for the casting industry today. If you want a low cost material for casting or turning, you can't rely on iron to give you the durability you need at an affordable price.
Versa-Bar's metallurgical makeup has a specific formula designed to give you strength and versatility at lower costs than any grade of steel you'll find on the market.
Superior Material. Superior Service.
Aside from boasting a wide selection of raw continuous cast iron stock, including class 40 gray iron, 65-45-12 ductile iron, and 80-55-06 ductile iron, American Iron & Alloys machines your components to help you keep projects moving and save on shipping costs. Not only does the metallurgical makeup of Versa-Bar set us apart from competitors, but our metal services showcase our impressive capabilities as well: