V-2 Class 40 Gray Iron
Class 40 Gray Iron Features Unique Graphite Flakes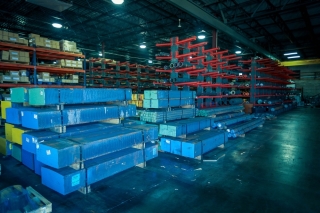 V-2 Class 40 Gray Iron available as raw stock or machined parts.
V-2 (Class 40) gray iron features a tensile strength of 40,000 psi with a compression strength of 150,000 psi. Class 40 gray iron's hardness ranges from 187 to 269 bhn. The microstructure is essentially pearlitic. It's used widely for bearing and bushing applications in the hydraulics industry.
Our Class 40 Continuous Cast Gray Iron is a Better Alternative
But that's not all it's good for—class 40 gray iron is suited well for any high wear resistance applications within the limits of the available shapes and sizes.
All grades of continuous cast iron, including Class 40 gray iron, are excellent alternatives to steel. Our continuous casting process solidifies iron at a more uniform rate than sand cast iron or steel.
Grinding
Horizontal & vertical machining
Class 40 gray iron is appropriate for many types of machinery, including housings, pulleys, sheaves and spindles. It's also used in the transportation industry, good for brake rotors, valve seat inserts and gears.
The unique characteristics of Versa-Bar make V-2 class 40 gray iron a superior option to gray iron provided by many other distributors of raw cast iron stock and custom components.
Class 40 Gray Iron Chemical Composition

Carbon
Silicon
Manganese
Sulfur
Phosphorus

2.6-3.75%

1.8-3%

0.6-0.95%

0.07% max

0.12% max
Mechanical Properties

Tensile strength
40,000 psi
Compressive strength
150,000 psi
Transverse strength: Average lbs. load on 1.2" dia. bar on 18" span
4,000 psi
Deflection - inches
0.25 - 0.34
Brinell hardness range
183/285
Microstructure, as cast
Essentially pearlitic
Heat treatment
Can be oil-quench hardened from 1575°F to attain Rockwell C-50 min. surface hardness
Machinability
Very good
ASTM Specification
A 48 (Class 40)
Class 40 Gray Iron Stock Material
Bar, Rounds & Rods
American Iron & Alloys, LLC has been shipping our gray iron rods and rounds around the United States for years. Our customers are companies who order custom continuous cast rods for their various manufacturing and assembling productions. Need the best prices on custom cut ductile iron? We're the company to call.
Specifications

| | |
| --- | --- |
| Bars & Rods Diameter | .625" - 23.6" |
| Rounds Starting Diameter | 1.5" |
Tubes & Piping
Our supply of custom class 40 gray iron cast tubes and piping are available as part of our huge raw iron stock supply. Any company in the United States find exactly what they're looking for when they order our Versa-Bar products.
Specifications

| | |
| --- | --- |
| Custom I.D.s & O.D.s | Up to 22" |
| Material | Raw Iron |
Billets & Squares
When taking your order for custom cast class 40 gray iron billets and squares, we make sure to go over your measurements to guarantee you get exactly what you're looking for.
Specifications

| | |
| --- | --- |
| Squares | 1.250 SQ" – 18.5 SQ" |
| Material | Raw or Custom Cast Components |
Flat Bar & Plates
American Iron & Alloys is the BEST source for custom cast flat bars and plates. Customers who spend weeks researching companies always choose our company for orders on custom cast iron parts – contact us today.
Specifications

| | |
| --- | --- |
| Starting Diameter | 18.5" x 22" x 72" |
| Diameter Limit | 10.5" x 24" x 82" |
Versa-Bar Continuous Cast Iron Means Improved Performance
Why choose Versa-Bar V-2 gray iron? Versa-Bar contains a high graphite flake content giving it numerous benefits over other gray iron on the market. Microscopic graphite flakes have very small recesses promoting the retention of oil. Lubricated parts stay oily longer. In the event of oil loss, versa-bar is able to retain its lubrication, and it has a better chance of survival.
What does this all mean? Greater durability. Longer life. A better product for a better price.