Continuous Cast Iron Suppliers
A Superior Alternative to Steel and Sand Cast Iron
Versa-Bar continuous cast gray and ductile iron is the most metallurgically superior steel alternative on the market. Fluid power and bearing manufacturing industries are switching to our continuous cast iron castings because it is much more cost-effective than any other steel alternative.
Choose Versa-Bar if you seek...
Decreased material costs
Improved machinability
Superior performance & durability

The continuous cast process ensures the iron solidifies at a more uniform rate, so the iron is more durable and reliable than traditional sand cast iron. Versa-Bar is manufactured with less scrap and reduced machining, so it is not only stronger, but also costs less than sand cast iron because there are no tooling charges.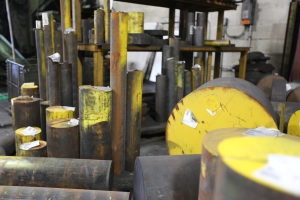 V-2 Class 40 Gray Iron
V-2 class 40 gray iron from American Iron & Alloys is a highly versatile metal, strong and machinable for many different types of custom metal castings.
V-3 65-45-12 Ductile Iron
Looking for a highly machinable alternative to steel? 65-45-12 Versa-Bar ductile iron is just what you need. Versa-Bar is the ideal metal for the hydraulics industry.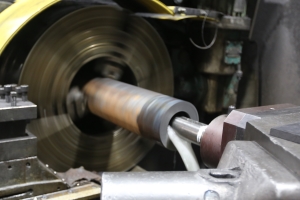 V-4 80-55-06 Ductile Iron
80-55-06 ductile iron builds extra strong custom castings, providing companies in the fluid power industry with an affordable, high quality alternative to steel.
See more technical specifications regarding our Versa-Bar continuous cast iron.
Versa-Bar Continuous Cast Iron Stock
American Iron and Alloys has the largest inventory of Versa-Bar continuous cast iron in North America and supplies it in a wide variety of shapes and sizes to fit your exact custom metal component needs. Standard lengths of continuous cast iron is 72 inches, however, we are able to accommodate sizes up to 144 inches in length upon request.
Some shapes and sizes of Versa-Bar include:
Get more information on our standard rounds & bars and what sizes we've got in stock.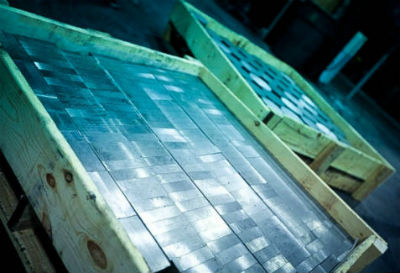 We offer stock continuous cast iron rounds and bars.
We also provide a wide variety of metal finishing services for our cast iron to help you save money at every step of the production process. Some of our custom metal finishing services include:
Boring and Rough Turning
Pre-Machined and Machine Complete
Cut to Length, Production and Short Runs
Review our detailed metallurgic technical specifications and resources PDF's for more information on Versa-Bar continuous cast iron grades and American Iron and Alloys' machining capabilities for Versa-Bar. Please refer to our metal stock list for specific production sizes available. If you have any questions, we're happy to help.
Continuous cast iron is used for a wide variety of applications including:
Hydraulics: Pistons, Glands, Manifolds
Machine tool: Gears, Bushing, Pulleys,
Patterns, Mould, Mounting Plates, Pins
Brake Disc, Bearing Caps, Valve Guides
Glass Moulds: Neck Rings, Plungers, Cores
Dies, Rollers, Sleeves, Spacers
Why Choose Versa-Bar Continuous Cast Iron?
It's Simple: Lower Cost, Better Performance
Versa-Bar's unique metallurgical properties make it a superior alternative to traditional sand castings.
Our continuous cast iron features microscopic flakes or spheres of graphite with tiny recesses which promote the retention of oil. Lubricated parts stay oily longer, and the highly dispersed graphite acts as a self lubricant in the case of oil loss. Naturally non-abrasive qualities give Versa-bar tubes, rounds, pipes, bars and rods superior wearability, making it the true hydraulic metal.
Versa-Bar continuous cast iron offers you a (1) lower material cost, (2) improved machinability and (3) increased performance. Compared to alternatives such as aluminum, brass, bronze and many grades of alloy and carbon steel, Versa-Bar rates as much more affordable.

Versa-Bar's special qualities make it the highest quality, lowest priced cast iron on the market. We supply you with ample raw stock, custom fabricated components, or can combine both in our versatile cast iron supply program.
Gray and Ductile Iron Differences
Some metallurgists will say the difference between gray and ductile iron is that ductile iron is an "upgraded" version of gray iron. But, the answer is not that simple.
Continuous cast gray iron is recommended for straight wear applications in the hydraulics industry due to its lower tensile strength, higher thermal conductivity and higher damping capacity. Gray iron is an ideal metal for bearings and bushings.
Ductile iron is much better for moving parts, because it is more malleable and more impact resistant than gray iron. Our continuous cast ductile iron is commonly used for pistons and other machinery requiring high tensile strength.
Explaining the Basics of Hydraulic and Pneumatic Systems
Versa-Bar's status as one of the industry's finest metals for the fluid power industries, its role in hydraulic and pneumatic power systems is critical. Reaching peak efficiency in the creation of power limits minimizes costs and maximizes total output.
Versa-Bar continuous cast iron's natural lubrication and ability to dissipate heat make it ideal for these kinds of applications.
Sand Casting vs. Continuous Casting
Sand casting has been one of the most popular and simplest types of casting for centuries. It relies on silica-based materials, typically synthetic or naturally-bonded sand to form a mold. Sand casting is inexpensive and can be used for both ferrous and non-ferrous metals. However, sand casting tends to yield a lower degree of accuracy and a rougher surface finish when compared to continuous casting.
Continuous casting is a refined process for continuous, large volume production. Continuous casting is also known as strand casting, and produces high quality products in a variety of shapes and sizes including square bars, tubes, hexagonal profiles and slabs with varying thickness levels.
American Iron and Alloys uses continuous cast iron to ensure your raw materials and custom components are built to the highest quality.
Buy raw continuous cast iron gray and ductile iron rounds or order custom cast components.
A Truly Flexible Continuous Cast Iron Supply Program
American Iron & Alloys offers you the most flexible and customizable purchasing program for your cast iron requirements. Most other distributors and CNC machining firms restrict you to certain quantities or finish styles. YOU decide if you want your metal stock raw, processed or machined. Some firms will only machine parts and not allow you to purchase materials straight from stock.
We pride ourselves on our customer services and unparalleled flexibility to tailor our products and services to your needs. Getting you exactly what you need means less waste and lower prices. For a metal supply program perfectly fitting your needs and saving you money, contact the experienced continuous cast iron suppliers at American Iron & Alloys today.
Contact the continuous cast iron distributors at American Iron and Alloys for a free quote on our metal supply programs.