Cast Iron Bars
Continuous Cast Iron Bar, Round and Rod Stock Suppliers in Wisconsin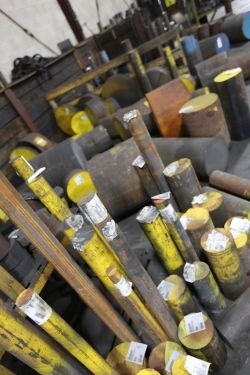 Order bulk cast iron bar stock at low prices. Get a free online quote NOW.
Continuous cast gray and ductile iron bar from American Iron & Alloys offers a superior alternative to traditional sand castings and steel. Ordinary cast iron can't compete with Versa-Bar in terms of quality and versatility.
Improved machinability
Lower material cost
Better longevity and performance

Continuous cast iron offers manufacturers in the fluid power industry a way to cut costs and INCREASE overall quality. Bearing manufacturers, pattern shops and construction equipment engineers benefit from continuous cast iron's superior metallurgical composition. Get a free quote for our cast iron raw stock material.
Stock Iron Bar Material Specifications

| | |
| --- | --- |
| Bars & Rods Diameter | .625" - 23.6" |
| Rounds Starting Diameter | 1.5" |
American Iron & Alloys Cast Iron Grades
From Raw Material to Custom Cast Components
We're more than a dealer. Our in-house CNC shop boasts the capability of precision machining cast iron components. Save on shipping costs by keeping stock purchases and CNC machining services under one roof.
Send us a drawing and we'll get you a full quote on materials cost and estimate the machining of your custom iron component(s).