65-45-12 ASTM A536 SG Ductile Iron Stock
65-45-12 ASTM a536 SG Ductile Iron Features Unmatched Machinability
65-45-12 ASTM A536 Ductile Iron Chemical Composition

Carbon
Silicon
Manganese
Sulfur
Phosphorus

3.5-3.9%

2.25-3.0%

0.15-0.35%

0.025% max

0.05% max
Material Properties

Tensile strength
65,000 psi
Yield strength
45,000 psi
Elongation, %
12%
Brinell hardness range
131/220
Microstructure, as cast
Ferritic
Machinability
Very good
Heat treatment
Full Anneal or Normalize
ASTM Specification
A-536
V-3 (65-45-12) ductile iron has a tensile strength of 65,000 psi with a yield strength of 45,000 psi and 12% elongation. 65-45-12 ductile iron hardness ranges from 131 to 220 bhn. The microstructure as cast is ferritic. The fine ferritic structure makes V-3 65-45-12 ductile iron the easiest machining of the three grades of Versa-Bar.
V-3 ductile iron offers high spindle speeds, less tool wear and better finishes. It's widely used to pistons in the hydraulics industry. 65-45-12 grade ductile iron provides excellent wear resistance and high strength in metal-to-metal applications.
V-3 Continuous Cast SG Ductile Iron is a Fine Steel Replacement
When compared directly 1144 steel (including material cost) our machining tests showed the V-3 ductile iron cost up to 20% less to produce the same part. All grades of continuous cast iron from American Iron & Alloys offer you tremendous cost savings. Versa-Bar ductile iron is an excellent, more affordable alternative to steel, and contains several benefits for producing:
Sprockets
Gears
Pulleys
Spindle housings
Flywheels
Pistons
Grinding
Horizontal & vertical machining
For many of the most common custom components in the automotive, fluid power and transportation industries, 65-45-12 Versa-Bar ductile iron offers you a lower price and higher quality than any steel.
65-45-12 Ductile Iron Stock Material
Versa-Bar 65-45-12 Ductile Iron Boasts Greater Durability and Longer Life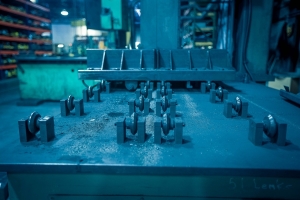 V-3 65-45-12 ductile iron features unparalleled machinability.
Versa-Bar ductile iron offers you unprecedented machinability and performance. Versa-Bar's continuous casting process provides uniformity and consistent soundness you'll never achieve by sand casting. Turning speeds of 30% or more means increased tool life and decreased labor expense.
High graphite flake content in ASTM A536 SG Versa-Bar means every bar contains tiny recesses retaining oil—lubricated parts stay oily for longer. Well dispersed and retained lubricant means a part made of Versa-Bar has a much better chance of survival should there be oil loss.
Versa-Bar is the true hydraulic metal. Its natural non-abrasive quality gives it extremely high wearability. Versa-Bar represents an opportunity you can't afford to pass up.