65-45-12 ASTM A536 SG Ductile Iron Stock
65-45-12 ASTM a536 SG Ductile Iron Features Unmatched Machinability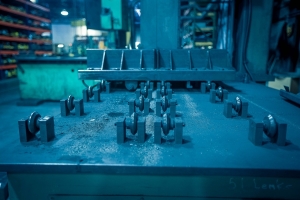 V-3 65-45-12 ductile iron features unparalleled machinability.
V-3 (65-45-12) ductile iron has a tensile strength of 65,000 psi with a yield strength of 45,000 psi and 12% elongation. 65-45-12 ductile iron hardness ranges from 131 to 220 bhn. The microstructure as cast is ferritic. The fine ferritic structure makes V-3 65-45-12 ductile iron the easiest machining of the three grades of Versa-Bar.
V-3 ductile iron offers high spindle speeds, less tool wear and better finishes. It's widely used to pistons in the hydraulics industry. 65-45-12 grade ductile iron provides excellent wear resistance and high strength in metal-to-metal applications.
V-3 Continuous Cast SG Ductile Iron is a Fine Steel Replacement
When compared directly 1144 steel (including material cost) our machining tests showed the V-3 ductile iron cost up to 20% less to produce the same part. All grades of continuous cast iron from American Iron & Alloys offer you tremendous cost savings. Versa-Bar ductile iron is an excellent, more affordable alternative to steel, and contains several benefits for producing:
Sprockets
Gears
Pulleys
Spindle housings
Flywheels
Pistons
Grinding
Horizontal & vertical machining
For many of the most common custom components in the automotive, fluid power and transportation industries, 65-45-12 Versa-Bar ductile iron offers you a lower price and higher quality than any steel.
65-45-12 ASTM A536 Ductile Iron Chemical Composition

Carbon
Silicon
Manganese
Sulfur
Phosphorus

3.5-3.9%

2.25-3.0%

0.15-0.35%

0.025% max

0.05% max
Mechanical Properties

Tensile strength
65,000 psi
Yield strength
45,000 psi
Elongation, %
12%
Brinell hardness range
131/220
Microstructure, as cast
Ferritic
Machinability
Very good
Heat treatment
Full Anneal or Normalize
ASTM Specification
A-536
65-45-12 Ductile Iron Stock Material
Bar, Rounds & Rods
Our custom cut ductile iron products include a range of rods, bars, and rounds. Whether your company manufactures or produces specific products in America, your best resource of 65-45-12 ductile iron bar stock is American Iron & Alloys. Looking for more information regarding our stock? Call us today!
Specifications

| | |
| --- | --- |
| Bars & Rods Diameter | .625" - 23.6" |
| Rounds Starting Diameter | 1.5" |
Tubes & Piping
Condensing your saturated range of options when it comes to who you should order 65-45-12 ductile iron tubing from is as easy as heading straight to American Iron & Alloys. Ask us about our custom cast tubing and piping today.
Specifications

| | |
| --- | --- |
| Custom I.D.s & O.D.s | Up to 22" |
| Material | Raw Iron |
Billets & Squares
From Wisconsin to Texas and New York to California, American Iron & Alloys is the #1 choice for custom cast ductile iron billets and squares in the United States. When placing your order on your custom cast components, tell us exactly what you're looking for! We machine our billets into custom diameters and lengths for your convenience.
Specifications

| | |
| --- | --- |
| Squares | 1.250 SQ" – 18.5 SQ" |
| Material | Raw or Custom Cast Components |
Flat Bar & Plates
Just place your order and we'll custom cut rectangles and other specialty shapes with specific diameters and lengths. American Iron & Alloys is always the first company businesses in the U.S. contact for the best custom cast flat bars and plates. Call us today for more information.
Specifications

| | |
| --- | --- |
| Starting Diameter | 18.5" x 22" x 72" |
| Diameter Limit | 10.5" x 24" x 82" |
Versa-Bar 65-45-12 Ductile Iron Boasts Greater Durability and Longer Life
Versa-Bar ductile iron offers you unprecedented machinability and performance. Versa-Bar's continuous casting process provides uniformity and consistent soundness you'll never achieve by sand casting. Turning speeds of 30% or more means increased tool life and decreased labor expense.
High graphite flake content in ASTM A536 SG Versa-Bar means every bar contains tiny recesses retaining oil—lubricated parts stay oily for longer. Well dispersed and retained lubricant means a part made of Versa-Bar has a much better chance of survival should there be oil loss.
Versa-Bar is the true hydraulic metal. Its natural non-abrasive quality gives it extremely high wearability. Versa-Bar represents an opportunity you can't afford to pass up.