65-45-12 ASTM A536 SG Ductile Iron Stock
65-45-12 ASTM a536 SG Ductile Iron Features Unmatched Machinability
Choose Versa-Bar 65-45-12 ductile iron for...
Better bulk pricing
Flexible supply packages
Quick nationwide delivery
FREE QUOTE
65-45-12 ASTM A536 Ductile Iron Chemical Composition

Carbon
Silicon
Manganese
Sulfur
Phosphorus

3.5-3.9%

2.25-3.0%

0.15-0.35%

0.025% max

0.05% max
Material Properties

Tensile strength
65,000 psi
Yield strength
45,000 psi
Elongation, %
12%
Brinell hardness range
131/220
Microstructure, as cast
Ferritic
Machinability
Very good
Heat treatment
Full Anneal or Normalize
ASTM Specification
A-536
V-3 (65-45-12) ductile iron has a tensile strength of 65,000 psi with a yield strength of 45,000 psi and 12% elongation. 65-45-12 ductile iron hardness ranges from 131 to 220 bhn. The microstructure as cast is ferritic. The fine ferritic structure makes V-3 65-45-12 ductile iron the easiest machining of the three grades of Versa-Bar.
V-3 ductile iron offers high spindle speeds, less tool wear and better finishes. It's widely used to pistons in the hydraulics industry. 65-45-12 grade ductile iron provides excellent wear resistance and high strength in metal-to-metal applications.
V-3 Continuous Cast SG Ductile Iron is a Fine Steel Replacement
When compared directly 1144 steel (including material cost) our machining tests showed the V-3 ductile iron cost up to 20% less to produce the same part. All grades of continuous cast iron from American Iron & Alloys offer you tremendous cost savings. Versa-Bar ductile iron is an excellent, more affordable alternative to steel, and contains several benefits for producing:
Sprockets
Gears
Pulleys
Spindle housings
Flywheels
Pistons
Grinding
Horizontal & vertical machining
For many of the most common custom components in the automotive, fluid power and transportation industries, 65-45-12 Versa-Bar ductile iron offers you a lower price and higher quality than any steel.
65-45-12 Ductile Iron Stock Material
Versa-Bar 65-45-12 Ductile Iron Boasts Greater Durability and Longer Life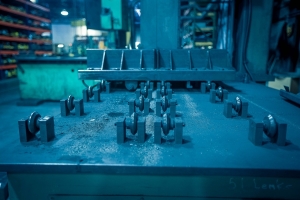 V-3 65-45-12 ductile iron features unparalleled machinability.
Versa-Bar ductile iron offers you unprecedented machinability and performance. Versa-Bar's continuous casting process provides uniformity and consistent soundness you'll never achieve by sand casting. Turning speeds of 30% or more means increased tool life and decreased labor expense.
High graphite flake content in ASTM A536 SG Versa-Bar means every bar contains tiny recesses retaining oil—lubricated parts stay oily for longer. Well dispersed and retained lubricant means a part made of Versa-Bar has a much better chance of survival should there be oil loss.
Versa-Bar is the true hydraulic metal. Its natural non-abrasive quality gives it extremely high wearability. Versa-Bar represents an opportunity you can't afford to pass up.
V-3 65-45-12 ductile cast iron beats aluminum, bronze and steel in basic field comparison testing.
Operators were asked to reach the best surface feed per minute (sfm) on 65-45-12 Versa-Bar ductile cast iron and maintain comparable depth of cut and surface roughness with aluminum, bronze and steel grades.
Machine used: a 7hp lathe set up for production of hydraulic cylinder pistons. The cutting tools used in the analysis: a Valenite VC 67 Carbide Insert.
Here are the results:
CAST IRON
ALUMINUM
BRONZE
STEEL
V-3 DUCTILE
(65-45-12)
6061-T6
2024 T-3
SAE 660
C-1045
R.P.M
1100
1500
1500
1100
1100
1500
1100
1100
1500
1100
1500
FEED
.009
.013
.013
.011
.009
.013
.009
.009
.011
.009
.013
DEPTH OF CUT
.125
.250
.060
.050
.125
.250
.125
.125
.125
.125
.125
LENGTH OF CUT
4"
4"
4"
4"
4"
4"
4"
3.25"
3.25"
5"
5"
R.M.S
63FS
150FS
63FS
63FS
60FS
125FS
60FS
80FS
80FS
63FS
150FS
WITH COOLANT
YES
NO
NO
NO
YES
YES
YES
YES
YES
YES
YES
MACHINE HORSEPOWER
7HP
7HP
7HP
7HP
7HP
7HP
7HP
7HP
7HP
7HP
7HP
TAPER
.001
.003
.0008
.001
.001
.001
.0005
.0005
.0005
.001
.001
S.F.M
550
775
775
550
575
800
575
950
1200
800
900
The results, reached through conventional tooling and equipment, demonstrate Versa-Bar's superiority to the competition.