V-4 80-55-06 ASTM A536 SG Ductile Iron Stock
80-55-06 ASTM A536 SG Ductile Iron Features Extra Strength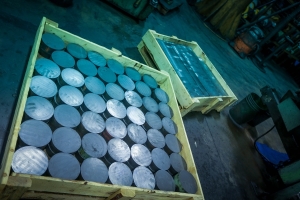 V4 80-55-06 ductile iron is a direct steel replacement.
V-4 (80-55-06) ductile iron has a tensile strength of 80,000 psi with a yield strength of 55,000 psi and elongation of 6%. Of the three grades of Versa-Bar ductile iron, 80-55-06 ductile iron is the strongest. It may be heat treated to reach 100,000 psi tensile strength. Due to its pearlitic structure, V-4 can be expected to machine 10-15% below the rates of V-3 (65-45-12).
80-55-06 continuous cast ductile iron is used for a variety of applications, including:
Housings
Flywheels
Gears
Pulleys
Pistons
Rotors
Valves
When the physical properties of steel are desired, users will turn to V-4 as an excellent replacement. After all, it has several features surpassing steel as the more efficient, affordable metal for your custom cast components.
Grinding
Horizontal & vertical machining
V-4 Continuous Cast Ductile Iron a Direct Steel Replacement
80-55-06 ductile iron brings you tremendous cost savings as a steel alternative when using for parts requiring a lot of machining. Its machinability rating will be similar to common carbon steel grades such as 1144, 1141, 11L17 and 12L14 but will reach much higher machining speeds.
Versa-Bar continuous cast iron offers several benefits over steel, including greater natural corrosion control, more flexibility in the field, and less intensive maintenance. From just about every angle, 80-55-06 ductile iron is a much better metal for custom metal components than steel.
80-55-06 ASTM A536 SG Ductile Iron Chemical Composition

Carbon
Silicon
Manganese
Sulfur
Phosphorus

3.5-3.9%

2.25-3.0%

0.15-0.35%

0.025% max

0.05% max
Mechanical Properties
Tensile strength
80,000 psi
Yield strength
55,000 psi
Elongation, %
6%
Brinell hardness range
187/269
Microstructure, as cast
Pearlitic
Machinability
Good
Heat treatment
Normalize or Oil Quench and Tempered
ASTM Specification
A-536
80-55-06 Ductile Iron Stock Material
Bar, Rounds & Rods
Get in business with the best. From custom cast rounds, bars, and rods, you're able to order our products in a range of diameters. Looking for sizes smaller or larger than what we offer? Contact us today for more specific orders.
Specifications

| | |
| --- | --- |
| Bars & Rods Diameter | .625" - 23.6" |
| Rounds Starting Diameter | 1.5" |
Tubes & Piping
Interested in making a specific order on ductile iron tubing? We serve companies around the United States who need to order parts made from materials like 80-55-06 ductile iron. Don't waste any more money on other countries who only offer you a restricted range of casting possibilities – choose customization with American Iron & Alloys!
Specifications

| | |
| --- | --- |
| Custom I.D.s & O.D.s | Up to 22" |
| Material | Raw Iron |
Billets & Squares
American Iron & Alloys has become the premiere option for companies in the United States who order custom cast billets and squares. We're expertly machining the exact lengths and diameters our customers order without compromising an inch on accuracy or quality. Place your order with our iron bar stock company today.
Specifications

| | |
| --- | --- |
| Squares | 1.250 SQ" – 18.5 SQ" |
| Material | Raw or Custom Cast Components |
Flat Bar & Plates
Expand your business with the help of our custom casting for ductile iron flat bars and plates. With one of the most impressive 80-55-06 raw material stocks in the country, American Iron & Alloys has the resources necessary for customizing the lengths and diameters to match the specific cuts you request in your order. Don't limit yourself – widen your options with American Iron & Alloys today.
Specifications

| | |
| --- | --- |
| Starting Diameter | 18.5" x 22" x 72" |
| Diameter Limit | 10.5" x 24" x 82" |
Versa-Bar 80-55-06 Ductile Iron Promotes Oil Retention
Versa-Bar ductile iron from American Iron & Alloys provides unmatched benefits in terms of durability and longevity. A higher graphite flake count present in 80-55-06 Versa-Bar promotes retention of oil and self-lubrication, keeping your parts lubricated for longer. In the event of an oil loss, Versa-Bar's ability to retain oil means your custom components are more likely to survive. The continuous casting process makes our Versa-Bar metalurgically superior to any other metals on the market.
80-55-06 ductile iron (and all other grades of ductile iron from AIA) feature high machining rates and good dampening capacity combined with high strength.
Versa-Bar is a high quality metal offered to you as raw stock and as precision CNC machined custom components at a low price.
Contact 80-55-06 ductile iron suppliers at American Iron & Alloys for more information about our gray and ductile iron stock.