V-4 80-55-06 ASTM A536 SG Ductile Iron Stock
80-55-06 ASTM A536 SG Ductile Iron Features Extra Strength
80-55-06 ASTM A536 SG Ductile Iron Chemical Composition

Carbon
Silicon
Manganese
Sulfur
Phosphorus

3.5-3.9%

2.25-3.0%

0.15-0.35%

0.025% max

0.05% max
Material Properties
Tensile strength
80,000 psi
Yield strength
55,000 psi
Elongation, %
6%
Brinell hardness range
187/269
Microstructure, as cast
Pearlitic
Machinability
Good
Heat treatment
Normalize or Oil Quench and Tempered
ASTM Specification
A-536
V-4 (80-55-06) ductile iron has a tensile strength of 80,000 psi with a yield strength of 55,000 psi and elongation of 6%. Of the three grades of Versa-Bar ductile iron, 80-55-06 ductile iron is the strongest. It may be heat treated to reach 100,000 psi tensile strength. Due to its pearlitic structure, V-4 can be expected to machine 10-15% below the rates of V-3 (65-45-12).
80-55-06 continuous cast ductile iron is used for a variety of applications, including:
Housings
Flywheels
Gears
Pulleys
Pistons
Rotors
Valves
When the physical properties of steel are desired, users will turn to V-4 as an excellent replacement. After all, it has several features surpassing steel as the more efficient, affordable metal for your custom cast components.
Grinding
Horizontal & vertical machining
V-4 Continuous Cast Ductile Iron a Direct Steel Replacement
80-55-06 ductile iron brings you tremendous cost savings as a steel alternative when using for parts requiring a lot of machining. Its machinability rating will be similar to common carbon steel grades such as 1144, 1141, 11L17 and 12L14 but will reach much higher machining speeds.
Versa-Bar continuous cast iron offers several benefits over steel, including greater natural corrosion control, more flexibility in the field, and less intensive maintenance. From just about every angle, 80-55-06 ductile iron is a much better metal for custom metal components than steel.
80-55-06 Ductile Iron Stock Material
Versa-Bar 80-55-06 Ductile Iron Promotes Oil Retention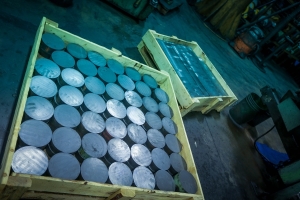 V4 80-55-06 ductile iron is a direct steel replacement.
Versa-Bar ductile iron from American Iron & Alloys provides unmatched benefits in terms of durability and longevity. A higher graphite flake count present in 80-55-06 Versa-Bar promotes retention of oil and self-lubrication, keeping your parts lubricated for longer. In the event of an oil loss, Versa-Bar's ability to retain oil means your custom components are more likely to survive. The continuous casting process makes our Versa-Bar metalurgically superior to any other metals on the market.
80-55-06 ductile iron (and all other grades of ductile iron from AIA) feature high machining rates and good dampening capacity combined with high strength.
Versa-Bar is a high quality metal offered to you as raw stock and as precision CNC machined custom components at a low price.
Contact 80-55-06 ductile iron suppliers at American Iron & Alloys for more information about our gray and ductile iron stock.