Cast Iron for Tree Grates
Versa Bar continuous cast iron is an ideal metal for tree grates
Specialty Castings & Custom Shapes >>>>> Tree Grates
Cast iron has been the material of choice for tree grates and manhole covers longer than any of us can remember. Designed to protect the tree's apron of roots while allowing light and water to enter, tree grates also add an undeniable visual appeal to sidewalks—far more so than the abomination of plastic tree grates.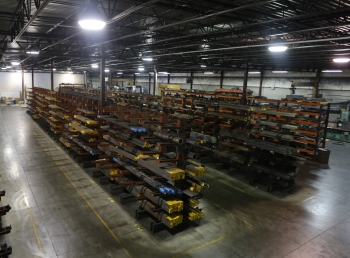 Our in-house machine shop enables us to prototype and manufacture cast iron tree grates.
Choose Versa-Bar if you seek...
Decreased material costs
Improved machinability
Superior performance & durability
FREE QUOTE
Because tree grates remain flat with no significant downward pressure other than the occasional pedestrian or dog, cast iron is an ideal material. Cast iron doesn't rust, and the sheer weight of a tree grate made from cast iron virtually eliminates the possibility of nuisance theft. An even better option, however, is Versa-Bar cast iron.
Versa-Bar cast iron offers substantial advantages over traditional sand or ingot cast iron. Its uniform metallic structure makes it easier to machine than sand cast iron. Thanks to our continuous cast iron process, which solidifies the iron at a more uniform rate, it is also more durable and reliable than sand cast iron. Amazingly, it also costs less.
Cast Iron Grades Available through American Iron and Alloys
Custom Casting and In-House Machining for Cast Iron Tree Grates
If you're buying raw material from supplier A and then shipping it to supplier B to have it cast or machined, consider having American Iron & Alloys do the work for you. Our in-house metal services shop can handle any ornate casting or CNC machining work you require for your tree grates, and you'll realize significant savings over shipping your cast iron stock somewhere else to be machined.
Cast Iron Delivered On Demand
Back in the 1980s, American Iron and Alloys pioneered a flexible, customer-responsive approach to supplying raw materials. In recent years, this lean supply approach has become increasingly popular. With years of experience in responding quickly to changing supply demands, American Iron & Alloys is uniquely qualified to meet all your supply needs efficiently and cost effectively.
American Iron & Alloys Stocks Versa-Bar Continuous Cast Iron in All Grades
As the worldwide leader in Versa Bar continuous cast iron tubing, bars and parts/components, American Iron & Alloys offers all grades of Versa-Bar gray iron and ductile iron. Whether you are looking for raw materials only or considering our in-house machining, our Versa-Bar offerings are unmatched in the industry.
About American Iron and Alloys: Based in Waukesha, Wisconsin, American Iron & Alloys has been providing quality Versa-Bar continuous cast iron and other metal products since 1982. We also have a warehouse and distribution center on the east coast to enable faster delivery to customers east of Wisconsin.