Cast Iron Pipe Fittings
Versa-Bar is ideal for cast iron pipe fittings
Specialty Castings & Custom Shapes >>>>> Pipe Fittings
Durable, safe for drinking water supplies, and cost-effective, Versa Bar cast iron is the ideal material for cast iron pipe and pipe fittings. As the nation's largest distributor of Versa-Bar continuous cast iron, American Iron and Alloys is the ideal supplier.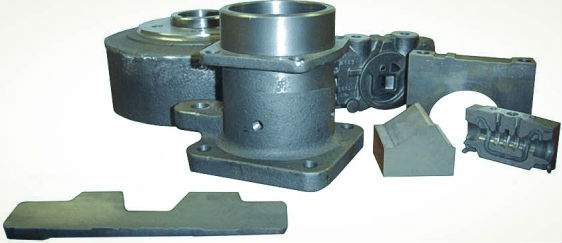 We product custom iron pipe fittings & castings built to your exact specs.
Choose Versa-Bar if you seek...
Decreased material costs
Improved machinability
Superior performance & durability
FREE QUOTE
In addition to cast iron pipes and fittings, our extensive in-house machining capabilities enable us to offer cost-effective machining of cast iron for orders of all sizes, from 5 pieces to 5,000. Whatever size, type or amount of cast iron pipe fittings you need, look to American Iron and Alloys.
Like many industries, you may not be inclined to place an enormous order once or twice per year. To better meet your needs, our business embraces the lean supply approach—providing our customers with whatever they need, whenever they need it. In fact, we pioneered this approach back in the 1980s.
We Stock Versa-Bar Continuous Cast Iron in All Grades
We not only have the largest inventory of Versa-Bar cast iron in North America, we also supply it to your precise specifications. No matter what size or type of cast iron pipe fittings you require, American Iron and Alloys has it.
Cast Iron Grades Available through American Iron and Alloys
You can reach us online to request a quote, or contact us by phone at 800-544-4800.
What cast iron fittings do you need produced?
With our in-house specialty castings and CNC machining shop, American Iron & Alloys can produce whatever type of cast iron fittings you require. Just let us know what you need. A drawing with your specs is usually enough for us to go on.
About American Iron & Alloys: Based in Waukesha, Wisconsin, American Iron & Alloys has been providing quality Versa-Bar continuous cast iron and other metal products since 1982. We also have a warehouse and distribution center on the east coast to enable faster delivery to customers east of Wisconsin.