Versa-Bar Cast Iron for Elbow Joints
Vera Bar continuous cast iron is an ideal metal for elbow joint pipes
Specialty Castings & Custom Shapes >>>>> Elbow Joints
Cast iron is a preferred metal for a wide range of fluid handling applications across many different industries and public works projects. Not all cast iron is created equally, though.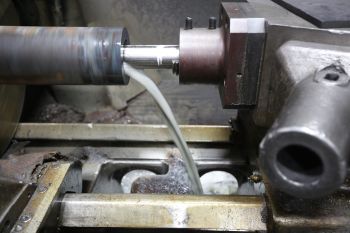 Our in-house machine shop gives us capabilities to prototype and manufacture cast iron elbows.
Choose Versa-Bar if you seek...
Decreased material costs
Improved machinability
Superior performance & durability
FREE QUOTE
Versa-Bar cast iron offers significant advantages over traditional sand or ingot cast iron. With its uniform metallic structure, it is much easier and more cost-effective to machine than sand cast iron. It is also more durable than sand cast iron due to our continuous cast iron process, which solidifies the iron at a more uniform rate. Surprisingly, it also costs less.
Cast Iron Grades Available through American Iron and Alloys
Custom Casting and In-House Machining for Cast Iron Elbow Joints
Does it make sense to keep buying iron from one supplier, then paying to have it shipped to another supplier for casting or machining? You can realize significant cost savings by having American Iron & Alloys supply the iron and the finishing.
Our in-house casting shop and CNC machining services can produce any type or size of cast iron elbow joint. With state-of-the-industry facilities and machinery, American Iron & Alloys is uniquely positioned to help streamline your operations. Custom parts? Just send us a drawing of what you need and we'll get you a quote.
Cast Iron Elbow Joints—On Demand
American Iron and Alloys pioneered a flexible, customer-responsive approach to supplying raw materials way back in the 1980s. Today, the lean supply approach has become increasingly popular. As a pioneer in this customer-first approach, we have the experience necessary to meet all your supply needs efficiently and cost effectively.
American Iron & Alloys Stocks Versa-Bar Continuous Cast Iron in All Grades
American Iron & Alloys is the worldwide leader in Versa Bar continuous cast iron tubing, bars and parts/components, so you can depend on us having what you need, when you need it. Our Versa-Bar offerings are not only unmatched in the industry, but our casting and custom machining services make us a one-stop source for finished parts of all types.
About American Iron and Alloys: Based in Waukesha, Wisconsin, American Iron & Alloys has been providing quality Versa-Bar continuous cast iron and other metal products since 1982. We also have a warehouse and distribution center on the east coast to enable faster delivery to customers east of Wisconsin.