CDA 955 Nickel Aluminum Bronze Bars and Tubing
CDA 955 Nickel Aluminum Bronze Provides Strength Against Corrosion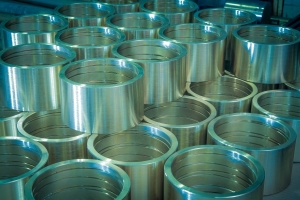 Nickel aluminum bronze is an extra tough corrosive resistant alloy.
C95500 nickel aluminum bronze has very similar characteristics as CDA 954 aluminum bronze, the only difference being a 1.5-3.5% increase in nickel content. The extra nickel makes CDA 955 one of the strongest non-ferrous alloys you can buy.
CDA 955's natural resistance to corrosion and heat make it perfect for marine equipment such as gear hardware and other heavy duty parts. Nickel aluminum bronze pipes and tubes are weldable and machinable, boasting extra strength with heat treating.
Value-Added CNC Services Provided by Bronze Pipe Fabricators
American Iron & Alloys provides bulk stock of C95500 nickel aluminum bronze bars, tubes or pipes.
However, if you have plans drawn up to create custom bronze components, we can help. American Iron & Alloys boasts a top-of-the-line CNC machining shop fabricating heavy duty custom bronze components built to your exact specifications.
CNC machinists at AIA perform a variety of value-added machining services to produce high-quality, proven tough custom bronze components:
Cut to length, production and short runs
Finish machined components
Pre-machined and machine complete
Our highly experienced custom bronze fabricators have the most advanced tools at their disposal to craft nickel aluminum bronze components.
CDA 955 Nickel Aluminum Bronze
Chemical Composition

Mechanical Properties

Copper
Iron
Aluminum
Nickel
Manganese
Tensile
Yield
Elongation
78%
3-5%
10-11.5%
3-5.5%
3.5%
95 ksi
42 ksi
10%
Physical Properties

Imperial
Metric
Liquid Melting Point
1930°F
1054°C
Solid Melting Point
1900°F
1038°C
Density
0.272 lb/in3 at 68°F
7.53 gm/cm3 @ 20°C
Specific Gravity
7.530
7.53
Thermal Conductivity
24.20 Btu · ft/(hr · ft2 · °F) @ 68°F
41.9 W/m · °K @ 20°C
Electrical Conductivity
8% IACS @ 68°F
0.049 MegaSiemens/cm@ 20°C
Electrical Resistivity
122.80 ohms-cmil/ft @ 68°F
20.41 microhm-cm @ 20°C
Coefficient of Thermal Expansion
9 · 10-6 per °F (68-572°F)
16.2 · 10-6 per °C (20°-300° C)
Modulus of Elasticity in Tension
16,000 ksi
110,000 MPa
Specific Heat Capacity
0.10 Btu/lb/°F @ 68°F
419.0 J/kg · °K @ 293°K
C95500 Nickel Aluminum Bronze Stock Material
Bar, Rounds & Rods
American Iron & Alloys has been working in the industry for years and knows the secret to success is customization. When you're looking for custom cast CDA 955 bronze bars, rods, and rounds, we're the company to contact.
Specifications

| | |
| --- | --- |
| Bars & Rods Diameter | .625" - 23.6" |
| Rounds Starting Diameter | 1.5" |
Tubes & Piping
With one of the largest stocks of raw materials in the United States, we're your best source for bronze piping and tubing. Whether you need custom cast pipes or specifically cut tubes, you have nearly unlimited options with American Iron & Alloys. Reach out to us today for more information regarding our CDA 955 bronze tubing stock.
Specifications

| | |
| --- | --- |
| Custom I.D.s & O.D.s | Up to 22" |
| Material | Raw Iron |
Billets & Squares
From ductile iron to aluminum and bronze, American Iron & Alloys is the best company to call when you need to order custom cast bronze bar stock. We specialize in casting billets and squares machined to your specific measurements. Have exact diameters and lengths you need cut for bronze parts? We're the best company to call.
Specifications

| | |
| --- | --- |
| Squares | 1.250 SQ" – 18.5 SQ" |
| Material | Raw or Custom Cast Components |
Flat Bar & Plates
Interested in having rectangle parts custom cut for your next project? Place your order with American Iron & Alloys. Our giant stock of raw materials like nickel aluminum bronze make it easy for us to provide custom casted flat bars and plates for companies in the United States. For more information on our CDA 955 bronze bar stock, contact us today.
Specifications

| | |
| --- | --- |
| Starting Diameter | 18.5" x 22" x 72" |
| Diameter Limit | 10.5" x 24" x 82" |
C95500 Nickel Aluminum Bronze Makes Military-Grade Bronze Components
The extra nickel present in CDA 955 nickel aluminum bronze bar makes it extra tough, a perfect composition for many different parts and components. CDA 955 nickel aluminum bronze can be used for many different applications, including:
Welding jaws
Wear plates
Valve components
Pistons
Bushings
Bearings
American Iron & Alloys has the capability of building tough bronze custom components from our stock of bronze bars, tubes and pipes in our facility in Waukesha, Wisconsin. We machine bronze components and ship them worldwide—speak with us today for a quote on nickel aluminum bronze custom cast components from American Iron & Alloys.