V-5 100-70-03 Ductile Iron Stock
Choose Versa-Bar if you seek...
Decreased material costs
Improved machinability
Superior performance & durability
FREE QUOTE
100-70-03 Ductile Iron Chemical Composition

Carbon
Silicon
Manganese
Sulfur
Phosphorus

3.5-3.9%

2.25-3.0%

0.15-0.35%

0.025% max

0.05% max
Material Properties

Tensile strength
100,000 psi
Yield strength
70,000 psi
Elongation, %
3%
Brinell hardness average
279
Machinability
(1212=100%) 75%
Heat treatment response (Rc)
55-60
A more flexible & durable 100 psi cast iron - Versa-Bar 100-70-03 Ductile Iron
With a minimal tensile strength of 100 psi and a minimal yield strength of 70,000 psi, our V-5 ductile iron stock is well-suited for the production of automotive parts, machinery, pump and compressor components, equipment for steel mills, and other heavy-duty industrial applications.
Versa-Bar continuous cast iron is not only metallurgically superior to steel, it is also more cost-effective than any other steel alternative. Our casting process solidifies the iron at a more uniform rate than sand cast iron, so it is more durable and reliable. With less scrap produced in the manufacturing process and less machining required, Versa-Bar also costs less.
Contact cast iron suppliers at American Iron & Alloys for a quote on stock materials or cast parts.
100-70-03 ductile iron combines nodular graphite in a matrix of pearlite with a small amount of ferrite. It can be produced in a wide range of sizes and shapes, and is often used in place of plain carbon steel. Its machinability is similar to carbon steel, which can dramatically lower costs for parts requiring a lot of machining.
Your Source for V-5 100-70-03 Ductile Iron Stock & Precision Cast Components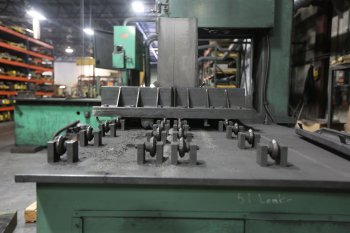 100-70-03 ductile cast iron is used for many types of custom cast parts.
In addition to being one of the largest providers of Versa-Bar 100-70-03 ductile iron in North America, we produce custom precision cast components. By combining your purchase with our CNC machining services, you can get the finished parts you need at a significantly lower price than if you were to source the parts and the machining work separately.
Machining services:
Grinding
Horizontal & vertical machining
Contact American Iron & Alloys for a qutoe on 100-70-03 ductile iron stock or custom components.