Cast Iron Tubing & Piping
Continuous Cast Iron Tube and Pipe Stock Suppliers in Wisconsin
Choose Versa-Bar cast iron tubing for...
Decreased material costs
Improved machinability
Superior performance & durability
Greater versatility. Unrivaled metallurgical structure. Greater durability.

We cut you standard or custom size cast iron tubing and pipes.
Versa-Bar continuous cast iron tubes and pipes represent a serious improvement over traditional sand or ingot casted irons.
Featuring a uniform metallic structure, Versa-Bar continuous cast iron tubing is more machinable and versatile than sand casted alternatives. American Iron & Alloys offers highly customized stock packages to combine the tubing, piping, bars, rounds, rods or any other iron stock to fulfill your needs.
American Iron & Alloys Cast Iron Tubing & Piping Grades
V-1A Glass Mold Iron | V-1 Class 30 Gray Iron | V-5 100-70-03 Ductile Iron | V-6 Class 35 Gray Iron
Manufacturers and engineers in the fluid power industry have benefitted from continuous cast iron's superior mechanical properties. You can too. Contact cast iron suppliers at American Iron & Alloys in Waukesha, Wisconsin to get a quote for continuous cast iron pipes and tubes.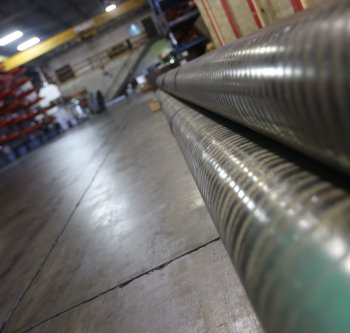 Continuous cast iron pipe and tubes offer big benefits over traditional cast iron. Get a free online quote.
Stock Iron Tube and Pipe Specifications

| | |
| --- | --- |
| Custom I.D.s & O.D.s | Up to 22" |
| Material | Raw Iron |

Two Birds, One Stone: We'll Finish and Machine Your Castings
Sick of throwing away money on shipping costs? American Iron & Alloys boasts a state of the art in-house CNC machining shop. We provide raw materials at request, but can also precision machine cast iron parts to your exact specifications. Send us your drawing and we'll bring it to life.
Pistons
Gears
Manifolds
Bushings
Pulleys
Pins
Brake discs
Valve guides
...and much, much more.