Cast Iron Flat Bars & Plates
Continuous Cast Iron Flat Bar & Plate Suppliers in Wisconsin
Choose Versa-Bar cast iron bar for...
Decreased material costs
Improved machinability
Superior performance & durability
Versa-Bar continuous cast iron flat bar and plates offer fluid power equipment manufacturers tremendous benefits in material costs and component durability.

We cut standard or custom size cast iron flat bar and plates.
Manufacture flywheels, housings, rotors, valves, pistons and more heavy duty parts at a lower cost with greater longevity. Cast iron suppliers at American Iron & Alloys provide a metalurgically superior material at a lower price than the traditional metals it surpasses.
American Iron & Alloys Cast Iron Flat Bar & Plates Grades
V-1A Glass Mold Iron | V-1 Class 30 Gray Iron | V-5 100-70-03 Ductile Iron | V-6 Class 35 Gray Iron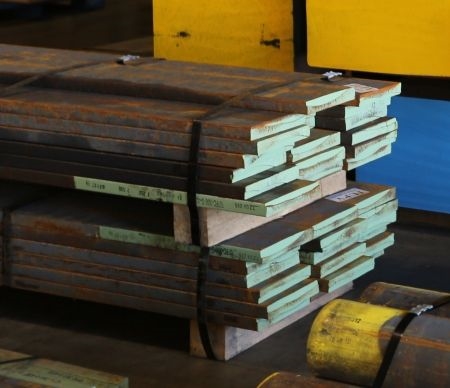 Get low rates on bulk orders of continuous cast iron flat bar & plates.
Stock Iron Flat Bar & Plates Material Specifications

| | |
| --- | --- |
| Starting Diameter | 18.5" x 22" x 72" |
| Diameter Limit | 10.5" x 24" x 82" |
Machining Custom Iron Parts? We're More Than Just a Supplier
American Iron & Alloys boasts a large CNC machine shop capable of producing custom precision cast components built to your exact specifications. Outsourcing materials purchases and CNC machining services separately means extra shipping costs you'd rather avoid. We're the in-house cast iron stock & machining company ready to cut your expenses and make you a better product – at a better price.
Brake discs
Gears
Pistons
Rollers
Sleeves
Spacers
Valve guides
Pulleys
Manifolds
Dies
...and much more.