Cast Iron Billets & Squares
Continuous Cast Iron Billet & Square Suppliers in Wisconsin
Choose Versa-Bar cast iron bar for...
Decreased material costs
Improved machinability
Superior performance & durability
Versa-Bar continuous cast iron billets and squares represent a significant metallurgical upgrade over regular sand casted iron stock.

We cut standard or custom size cast iron billets & squares.
Versa-Bar's unique molecular makeup creates a product more flexible and versatile to fit your production needs. Your parts will last longer - and our cast iron suppliers offer it at a lower cost.
Continuous cast iron's unique properties make at a perfect choice for manufacturing heavy construction equipment dependent on pneumatic systems. Long life means maximum lubrication and resistance to corrosion and erosion. Versa-Bar's self-lubricating properties make it the superior material to use for pistons, glands, manifolds, valve guides, pins or any component in heavily used machinery.
American Iron & Alloys Cast Iron Billets & Squares Grades
V-1A Glass Mold Iron | V-1 Class 30 Gray Iron | V-5 100-70-03 Ductile Iron | V-6 Class 35 Gray Iron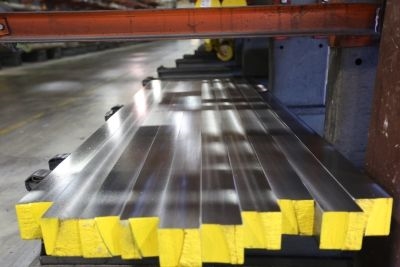 Get low bulk rates on continuous cast iron squares and billets. Request a free online quote.
Stock Billet & Square Material Specifications

| | |
| --- | --- |
| Squares | 1.250 SQ" – 18.5 SQ" |
| Material | Raw or Custom Cast Components |

Get Raw Materials – Or We'll Machine Your Components In-House
American Iron & Alloys offers excellent bulk pricing packages for our cast iron supply programs. However, we can save you even more by performing CNC machining services in our state of the art CNC shop to produce your custom designed cast iron components. Stop wasting thousands of dollars on shipping costs carting product between distributor and machine shop.
We handle the job from start to finish, slashing your expenses along the way.